Oct 10, 2016
My dear animals,
I don't have any words about "The Animal in Man" today. Instead, I have some things to say about a hard sci-fi, cosmic-horror thriller story I think you ought to be aware of: TANTALUS DEPTHS by Evan Graham.
Here's part of what I said about Tantalus Depths in a review: Combining the immense scope of Mass Effect with the grittier, grounded, hard sci-fi feel of Alien is like a dream come true. ... What an absolutely uncanny, unfathomable universe we live in, where creative minds like Evan Graham's can conjure stories from the dark unknown spaces between stars... I can't wait to see where his story leads. 
Let me now say something about Evan Graham himself: ...I've met A LOT of hard-working authors around Inkshares, but NONE of them have busted their ass as much as this guy. He has SIX DAYS left to get ONE HUNDRED PRE-ORDERS.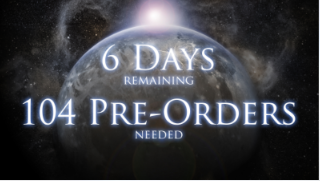 (Actually, make that ninety-nine since by the time you read this I'll have already chipped in another order.) He deserves it, people. His book deserves it. I truly believe in this project. It's not something I say lightly. If you've been on the fence about Tantalus Depths, just hangin' out between Follower and Reader, it's time to hop down and make the pre-order. You will not be disappointed.