May 30, 2018
I'm starting a revolution. ANOTHER revolution, to be exact. Around the sun. And it begins today. Because today… is my birthday! Yes, that's right! And I'd like you to know it's totally OK if you forgot to get me something. Because it's NOT TOO LATE!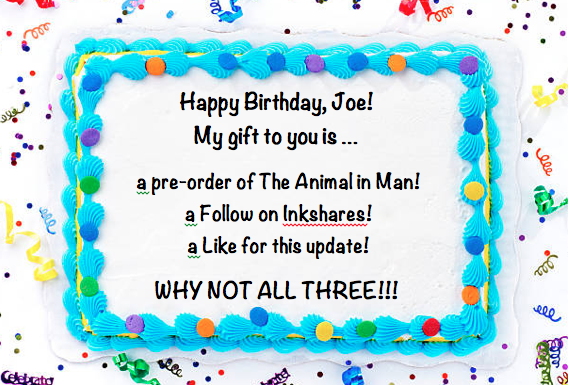 For my birthday, it would be really great if all those who've followed The Animal in Man could make a pre-order. What you'll get is a SIGNED COPY on September 25th. But, at the very least, it'd still be pretty swell if you followed me and my book(s) on Inkshares, and then hit me up on facebook and twitter (@BulletTime000). And at the very, very-VERY least click Like on this reader update. (It kind of makes me feel special. :D)
You should know, I got YOU something too. Coming up in June, I'll have new character concept art to share as well as promotional giveaways as the September 25th release date approaches. (Hint: by pre-ordering NOW, you're eligible for the drawing. Just sayin'!) Stay tuned!
As always, THANKS to all the supporters of The Animal in Man.