Jan 4, 2017
Hey! Long time no update. But happy new year to all, and I thought I'd give thanks one more time to everybody who helped make a scene like this happen (this was at Vroman's Bookstore in Pasadena shortly after the book was published. Pasadena is largely where the novel is set, so pretty appropriate, huh?)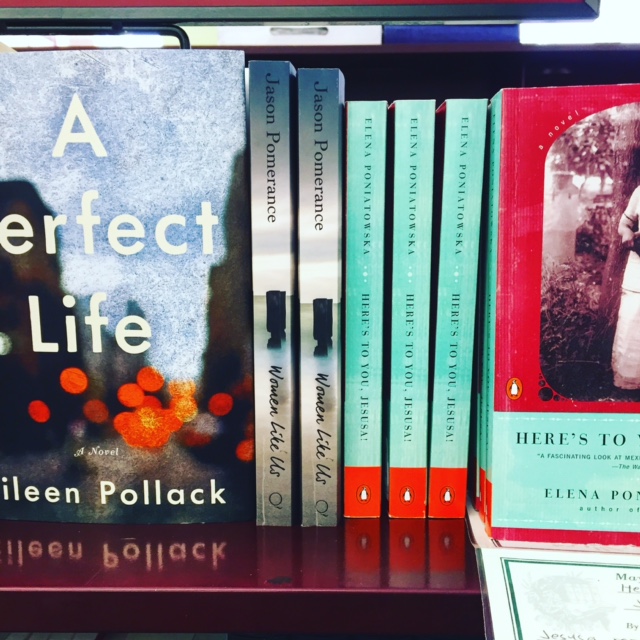 The book often sells nicely when it's promoted on one or another book-buying site (especially eBooks) and I'm so grateful to be able to hold it in my hands. That feeling never seems to wear off. If you have read the book -- whether you liked it or not but preferably you liked it! -- please leave an Amazon review. The more reviews there are, the more the book gets promoted on Amazon. Here's a link to the page. Just scroll down to Write a Customer Review.  It can be as brief as a sentence.
https://www.amazon.com/Women-Like-Us-Jason-Pomerance-ebook/dp/B01IOZUBEW/ref=cm_cr_arp_d_product_top?ie=UTF8
Also in 2016 my novella Falconer was published in four parts on Nikki Finke's Hollywood Dementia, with amazing artwork by John Donald Carlucci.  In case you missed it, here's a link. Nikki recently made a deal with HBO to develop properties that were published on the site, so keep fingers crossed!
http://hollywooddementia.com/nikki-finke-fiction-falconer-part-one-by-jason-pomerance/
But it's a new year and on to the new. Two things to report on the book front. I'm in the process of finishing up edits and revisions on Celia at 39, a new novel, one that falls more into the Chick-Lit category. Here's a little blurb about it: 

Celia Bernhart thought she had her life all figured out. She should, right, because she's turning 39 in a week. She's a success in her career. She's about to marry her longtime boyfriend Barry. But then a package gets mis-delivered to the house she and Barry share -- Actually, it's the right address, but it's nearly forty years late! Celia becomes determined to deliver the package to its rightful owner, but when she does it turns her very well-ordered life completely upside down. 
We'll most likely be trying to go down the more traditional publishing route on this book since it falls more neatly into a genre. Stay tuned for more -- hopefully good news -- about this. 
But if you're interested in supporting another Inkshares book, read on. Many of you know that we have not one but two beagles, George and Derric. George was adopted as a puppy from some folks who couldn't handle him, but Derric's adoption story is very, very different and, frankly, a little more disturbing. We came to Derric from a wonderful organization called the Beagle Freedom Project, which negotiates to get animals being subjected to laboratory tests freed.  Until we had stumbled on the Beagle Freedom Project, we did not know that thousands of beagles were spending their lives in cages in labs all over the world.  There are some who think these animals can't make the transition from lab life to freedom, but Derric has a different story to tell, and that's what this book is about. In fact he's helping me write it.  Click the link below to read more about this new book, and please follow its progress. Even better pick up a pre-order if you can.
https://www.inkshares.com/books/love-derric-my-journey-from-laboratory-experiment-to-freagle-who
So that's it for now.  Thanks again, and I hope everybody has a happy and healthy 2017.