Aug 4, 2017
Hello glorious The Punch Escrow backers!
By now I hope you've all received your books. If you haven't, please let the good folks at
Inkshares
know. This update is to let you know the inside scoop on the movie adaptation news you've all been asking me about, as well as to let you know when you'll all be receiving your early backer exclusive prize.
Okay, let's talk about The Punch Escrow movie! The most important thing you need to know is that the book has been OPTIONED but that option has not been exercised yet. This means that The Punch Escrow movie is like Schrodinger's Cat. It's in the box. We won't know whether it'll get made or not until we get to see inside the box. What I can tell is you that it's a hell of a lot more likely to get made if the book becomes a bestseller. And for the book to become a bestseller
we need REVIEWS
.

You don't need to buy your book on Amazon to
post a review
. As you know, I'm a loud and passionate advocate of Indie bookstores. But! — Amazon reviews matter a lot for conversions. We're at 23 — 
The magic number is 101
. After 100 reviews Amazon's algorithm treats the book differently. It kicks things into a flywheel effect that puts the book front and center as a recommended product for like properties (like, say,
Dark Matter
, or
Ready Player One
) much more often. So — if you've read the book and enjoyed it, please consider
posting a review
. That's the thing that you can do to help the movie happen.
Last weekend, after my event at LA's delicious Book Soup, I met with the man Lionsgate has hired to adapt and direct The Punch Escrow film. His name is James Bobin. He's a director and co-creator of Flight of The Conchords (to date my favorite HBO show of all time), and he directed The Muppets reboot, its sequel, as well as Alice Through The Looking Glass. I believe his work on Flight of The Conchords makes him a unique fit for the adaptation because — if you read the synopsis of the show it sounds very sad and derivative: two lazy Kiwi guys in a band try to "make it" in New York but fail at every turn. It sounds like a depressing Kiwi/East Coast version of Tenacious D, right? Many of the same things could be (and have been) said about The Punch Escrow; many who read the synopsis instantly accuse it of being derivative of everything from The Prestige to Think Like A Dinosaur, and so a director who has experience in both turning a dire synopsis into a lighthearted, funny story full of childlike wonder, and ensuring that said story is so obviously different that no one could accuse it of being derivative of anything — those two capabilities are essential to the successful adaptation of my book (IMO of course). Here's me with James. I may have had a post-gig martini or two at this point. Yes, this definitely looks like my "two martini face":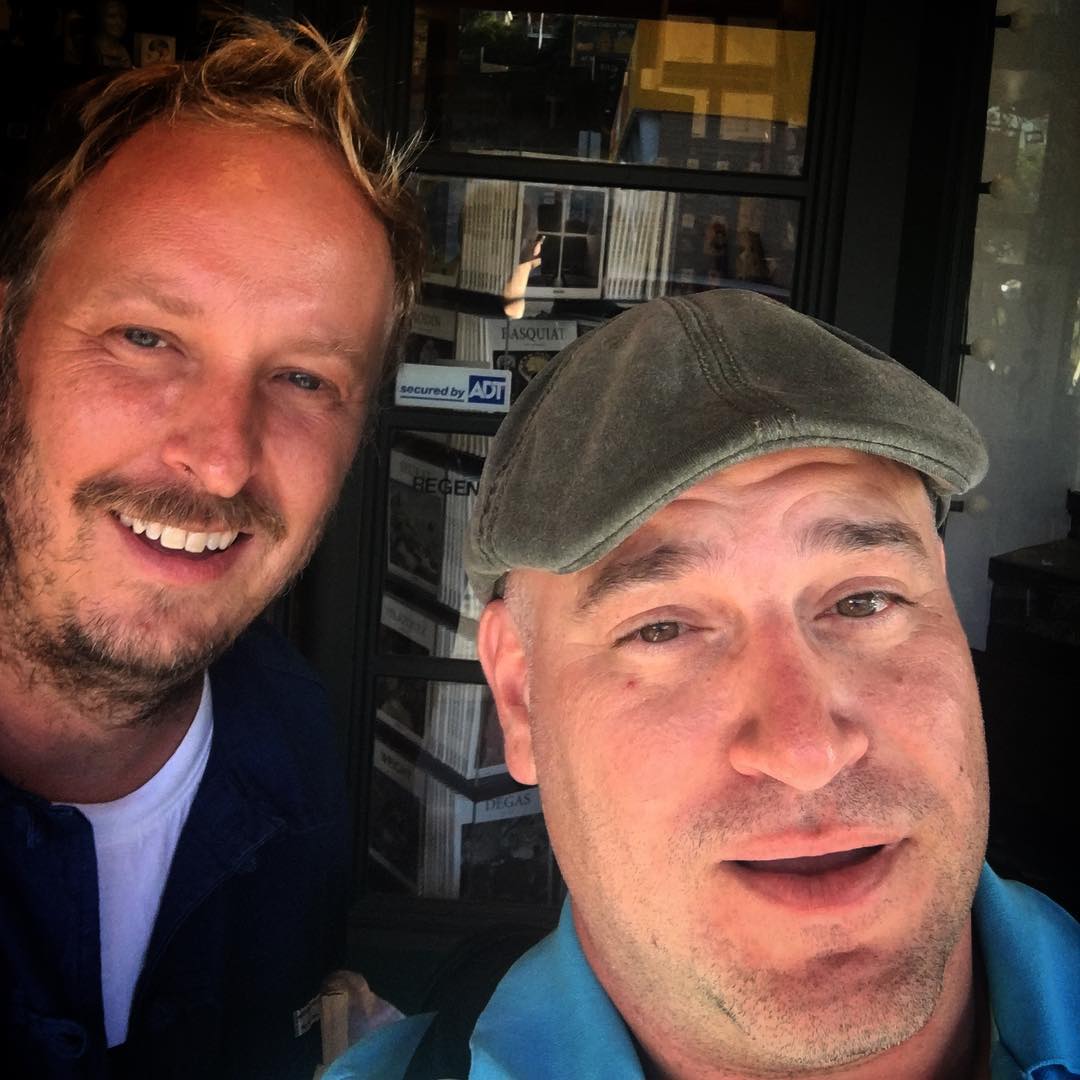 The other factor to consider here is James' amazing work on The Muppets reboot. Not only did he produce a uniquely original take on The Muppets, but his work on that film largely involved working with sentient puppets. Those of you who have read The Punch Escrow will understand the value of that skill when adapting a world full of sentient cars, rooms, and robots.
But, again, none of this will matter if the book option doesn't get exercised, and to do that,
we need reviews
!
Since many of you are still reading, I'm holding off the special early backer-only surprise I've prepared for you as a reward for surpassing 5,000 sales (we're just north of 7,500 now!). because it contains spoilers. But I'll tell you what it is:
I'm going to give you a chapter that's been cut out of the book!
An entire chapter! You're getting the "author's cut" of
The Punch Escrow
with this as its special feature. This will be delivered to you lot when we
hit 101 reviews
! So...
Ta ta for now, and thank you for all your amazing and gracious support,
Tal