Apr 29, 2021
Greetings, longsuffering friends. I have some news! It's not THE news, but it is A news. Actually, it's TWO news. But it's definitely GOOD news!
The first news: my friend and fellow brilliant authorial mastermind, Kaytalin Platt, was gracious enough to interview me on her website about my most recent short story, Reliquary, which debuted in last year's Writing Bloc anthology, Passageways. We get deep into my creative process and worldbuilding approach, not just for Reliquary, but for the entire Calling Void series as a whole. It's a great interview, and I'm very excited to share it with all of you. Check it out here, and while you're there, check out some of her other interviews from authors in the Passageways anthology, including her own!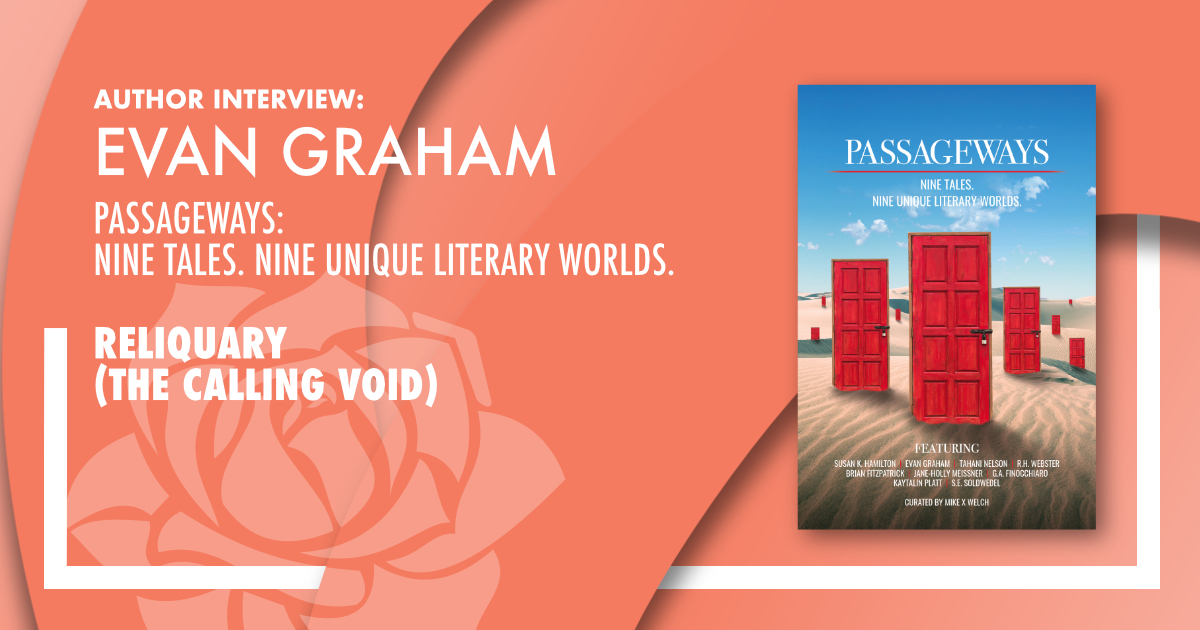 And now, the second news, which I think will be even more relevant to your interests.
I can FINALLY proudly announce that Tantalus Depths is officially out of the development editing stage of production.
Those of you who have been following my updates for a long time might be having a "Wait, didn't we already do that?" moment right now, and you'd be right. We officially finished development edits more than two years ago and were cleared to move on to the copy editing stage. BUT, what we did not expect or plan on at the time was that Adam Gomolin, the CEO of my publishing company, would take direct personal interest in my book and want to go through an additional round of development edits one-on-one with me. While it was definitely a bit frustrating to jump right back into development edits right after I thought we were done, that frustration was hugely outweighed by the opportunities that additional round of edits provided. Adam and I worked tirelessly together to transform Tantalus Depths into an absolutely brilliant book that I've never been prouder of, and even though the work was exhausting and the wait has been long, I think it will absolutely have been worth it.
For those of you who are not familiar with the publishing industry's inner workings, a "development edit" is a round of edits that focuses on story-related things like plot development, character consistency, tone, pacing, and so on. Basically, the meat of a story. Development edits tend to involve significant rewrites; in my case, I've rewritten several chapters, added a few new ones, and reworked dialogue and narration to make the story sleeker, deeper, with a stronger core identity. The story and the characters are still absolutely true to my original vision, and the book overall is still the story I always wanted to tell. In fact, even though I've rewritten probably 80% of the words in the story at this point, I'm really just telling the exact same story I always have with much better words.
And so, after approximately 8 different drafts, I have finally gotten Tantalus Depths to a point that both Adam and I agree is ready to move on to the next step. The story is locked in now, and will change very little from now to publication day, but there are still a few steps to go in the process. The next big step will be the copy editing stage, which is another full round of edits that will, thankfully, take much less time. Copy editing focuses on simpler, more mechanical aspects of writing, such as grammar and word usage. This stage will not involve significant rewrites and should not require more than one or two drafts to resolve. I'm not going to throw out any time estimations, because I'm very, very bad at predicting things like that well, but where a draft of development editing could take me months, a draft of copy editing should take days.
Before we slide into copy edits, however, I have one special bonus surprise! Adam is hooking me up with an actual, honest-to God physicist to do a special "scientific accuracy pass" on the book. Tantalus Depths has always been designed with scientific accuracy in mind, but for all the hours of research I've put into it, I'm still just a layperson with a Bachelors's in education. This special bonus round of edits will give us the chance to improve the accuracy of the science presented in this science-fiction book, and I couldn't be more stoked about it.
So yeah, really big stuff is happening with Tantalus Depths! I wish I had a release date to give you all, but we aren't quite there yet. I have been given a tenuous one, but Inkshares' release schedule is still pretty flexible, and depending on how long the next phase of production takes, our actual release date could move forward or backwards, so I don't want to announce anything until it's more definite. Stay tuned, though! We are really making progress now.