Sep 14, 2022
Hello friends and supporters! 
Tantalus Depths is now less than two weeks away from launch! The wait is finally almost over!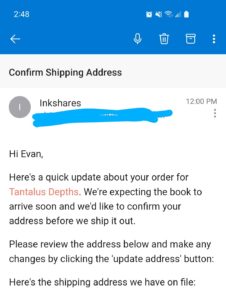 If you backed the Tantalus Depths preorder campaign way back in 2016 and ordered a physical copy,  you should be getting an email today or sometime this week from inkshares asking for confirmation of your shipping info. Please, please, please make sure this info is accurate! Six years is a long time, and I know a lot of you have moved since then. The email will have a link for you to make corrections. If you run into any difficulties with this, please email Inkshares directly at hello@inkshares.com. Shipping is handled by my publisher, not me, so I won't be able to do anything to help with this. 
If everything is correct in your shipping information, you're good! You don't have to do anything else, it'll ship right to you around  the 27th. Preorders made through Amazon or another book retailer may come a couple days later than that, but they should be close. 
In other exciting news, the Tantalus Depths audiobook is now available for preorder! It's exclusively available on Audible, and if you've never had an Audible account before, you can get your very first download free! Andi Arndt gives a truly phenomenal performance narrating this story; I truly could not have asked for a better reader. You're in for a fantastic ride. Check it out here:
There will be more updates soon as we get closer and closer to the big day, so stay tuned! And again, PLEASE check your email, including your junk folder just in case, to make sure your shipping info is correct if you've preordered a paperback through Inkshares.