Jan 3, 2017
Happy New Year!
Farewell to 2016, which saw the publication of
It's All Fun and Games
by Inkshares, and welcome to 2017, during which I'm hoping for a repeat.  Yes, the sequel folks have been asking for is not only in progress, but in editing mode!  You can find the
More Fun and Games project page here
.  I will be posting draft chapters as I go, so you'll be able to get a glimpse of the continuation of Allison's, TJ's, Stu's, Chuck's, and Jimmy's story.  I wrote this novel during NaNoWriMo in 2011 and it's been sitting ever since, and I'm getting a real kick out of "reading" it as I go.
A quick note about the Inkshares funding model.  The pricing has changed so that $10 will get you an ebook and $20 will get you an autographed physical copy.  This is a significant uptick from the first go-round, and will make achieving the funding goal here trickier.  I'm not at the point where I'm ready to start the pre-ordering, but if you happen to be interested in helping fund the sequel, please head on over and "Follow" the project.  That will give me a good sense as to what the actual funding for the sequel may look like.  I'll be sure to post any updates over there on the IAFAG page so you won't miss out on any info even if you're not quite ready to commit.
FREE STUFF FREE STUFF FREE STUFF

Now I've also got some other news to share.  A group of us indie authors are joining together in new-year's giveaway for the next couple weeks or so.  Most of the books are in the "Fantasy Comedy" domain, and some aren't especially kid-friendly, but they're a bunch of good reads.
Here are the covers of the books that are being given away!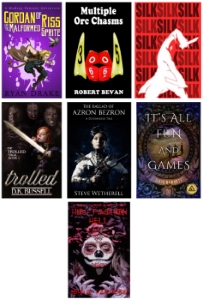 FREE STUFF FREE STUFF FREE STUFF
Feel free to share the links with people, including the link to my own novel.  The first 5 chapters (up to the fateful arrow strike, for those of you who have read it) are free for the downloading to anyone who wants them.
As always, I thank you for all your support, and I look forward to bring you
More Fun and Games
in 2017!
Cheers
Dave