Jul 30, 2016
 Hi everyone!
Firstly, a huge thank you for choosing to support me and "First on Mars." I cannot thank you enough for ordering a copy (or even several copies!) and I hope you realize how much it means to me. Before I started, I wasn't sure that anyone would like what I have to write, but I have been blown away by the amount of positive feedback and support I'm getting. Thank you!
It's people like you that make it all possible. What is a book without readers?
I'm sending this out to you all to ask for one more thing so that this book can actually be edited and published and become something more…
Please join me this Thursday, August 4th for "First on Mars Share-a-thon." I'm going to post and tweet a message about "First on Mars" and then I'm asking you to retweet it, share it on facebook, recommend it on goodreads, and/or to your local reading club. If every one of you do this, I will be virtually guaranteed to reach Quill and you will get the best possible version of this book in your hands (or computer/Kindle)!
Remember, here's what supporters of "First on Mars" get:
An ebook and updates forever.
A chance to win a copy of "The Martian" (whichever version you prefer).
A signed paperback and mission patch if ordering a physical copy.
Support the American Foundation for Suicide Prevention to the tune of $250 (this is coming out of my own pocket, I get nothing for the first 250 orders).
My gratitude forever.
There are only 33 days left in the funding campaign, so please help. Thanks!
Here's the link: https://www.facebook.com/events/175379712879833/
Despite all of my emails, facebook posts, tweets, videos, and posting of fliers around town, very few people have actually even heard of "First on Mars." If you doubt me, here are some video view numbers: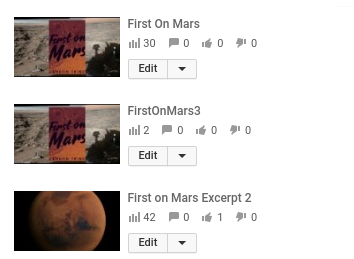 This means more people have actually pre-ordered than have watched the latest book trailer (which is slightly longer than one minute).
Here's the link again: https://www.facebook.com/events/175379712879833/
Thanks!