Nov 27, 2016
When challenged for his use of questionable racing tactics, three times world F1 champion Lewis Hamilton said, "I had to help myself, because no one else was going to help me." A gritty sentiment from a gritty competitor.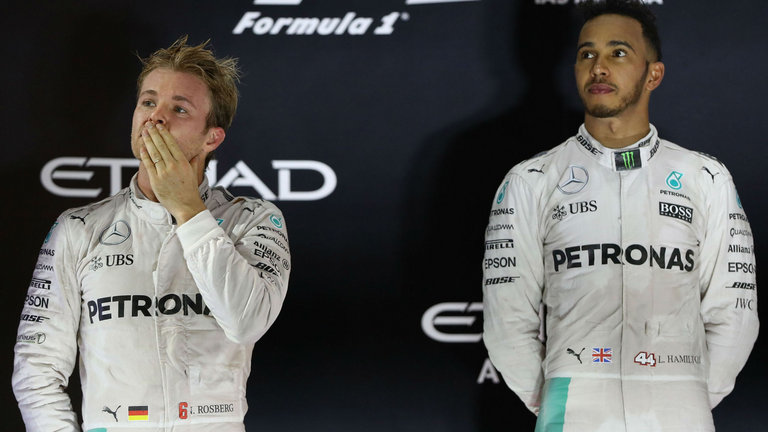 Photocred: Sky Sports (Lewis, on the right, reminds me of how grateful I am that us writers aren't forced to shout slam poetry to the death in order to get published.)
The extreme self-motivation and tenacity demonstrated by these athletes is undeniably tremendous, whether you're a racing fan or not. They're inspirational. To other drivers, athletes, and yes, even fiction writers. 
It's difficult to stay motivated. It's hard to keep going. Each of us who are in this together, know exactly what I mean. But when I see champions like Nico Rosberg —the man on the right who trounced Hamilton in spite of his questionable tactics— single-mindedly chase down his dream over decades, I'm reminded that only by overcoming adversity, over and over, can I make it to the other side. The world needs people to persevere, and champions like Nico provide motivation so that we may. 
I will never claim to be in the same league as a world champion like Nico Rosberg, Lewis Hamilton, or Jensen Button —to name but a few contemporary F1 bigwigs— but each and every morning that I wake, still in it to win it, I know I get a little closer to the other side.
I'm proud to be at 60% of my Quill goal —I still need just over 100 pre-orders to meet it— and I'm unspeakably grateful for the amazing show of support I've received from the people in my life thus far. Most of all, I'm overwhelmingly daunted to know that there are hundreds more people I need to touch with my story, to achieve my publishing goal.   
But if this journey were an easy one, I wouldn't be given the opportunity to know what it's like to persevere (said every masochist, ever).
All that said, I'd be lying through my teeth if I didn't say that every little bit counts. 
If you've been thinking about reading my first chapter (https://www.inkshares.com/books/where-the-sun-sets/book_segments/the-last-welcome), sharing an awesome and heartfelt story by a debut author with a friend, or even thinking of placing a pre-order and just haven't gotten to it yet, now's a great time revisit the notion!
I have just over a month left to reach my pre-order goal. When I hit it, it will be because of you.
PS - I have a new video! Check it out here: https://youtu.be/ozTWldcFDNE I'd love to hear what you think!
Have a great evening & thank you for reading.
Donna