Apr 25, 2016
QUILL ACHIEVED, SPACE CREW. 
We hit 250 last night, which means this book is going to be published. Let's take a moment to breathe. This was made possible by all of you (our relentless Crew), with the last Quill order going to our honourary Quill Captain, Micah Baker.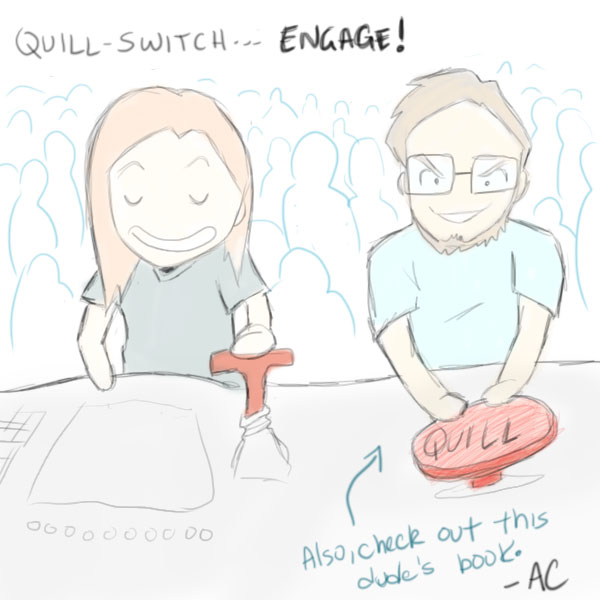 If you want to pick up his intriguing book, which is a sinister sort of space opera, you can do that here.
So What Happens Now?
First, the good. 
Once the campaign ends I'll be working with the crew at Inkshares to talk deadlines and a publishing schedule. This is happening!


I can now officially pledge funds to BuildOn, the literacy charity I've partnered with. They'll be getting 25% of my profits. 


Your prizes are guaranteed. All the prizes that don't rely on numbers of pre-orders will be happening. 


And the reality: 

 This is where we are right now. Yes, The Traveller's Cup is getting published, but it's not fully funded


Fully-funded means that Inkshares will take care of a lot of the publishing "dirty work". Editing, marketing, distribution, etc. 
Since they'll take on those services it frees me up to give more time to producing a solid book, and leaves me with more funds to give to prizes, and to increase my BuildOn donation from 25% to 50. 

So while we hit a major milestone, you can't expect the ship to stop here. 

If you're a member of this Crew, I need you to make it your personal responsibility to help me boost this to 750. Tell a friend. Order a copy for your mom. You can make a huge difference. 
Your Cautiously Celebratory Space Captain,
-AC