Nov 21, 2018
We are just shy of 60 days into the Inkshares Mystery & Thriller Contest and as much as I was looking forward to crossing this marathon finish line this week, the Inkshares organizers have decided to let us continue to run until mid-December. I'm currently in first place and hope that continues. To be on the safe side, there is still time to encourage others to order the book. Every order gets me closer to publication. As a reminder, during November, I am donating $5 of every order to the NaNoWriMo.org non-profit and I would like nothing more than to have to write a big check for a good charity. So please continue to spread the word. 
A few backers have asked when they can read the book. I'm currently working on the third draft, so the honest answer is I have no idea, but most likely in 2019. In the meantime, I've posted 10 revised chapters on the Inkshares site. If you want to take a look, you can do so by clicking on the READ tab below the cover art. (Or click here to go straight to the first of these, the Prologue.)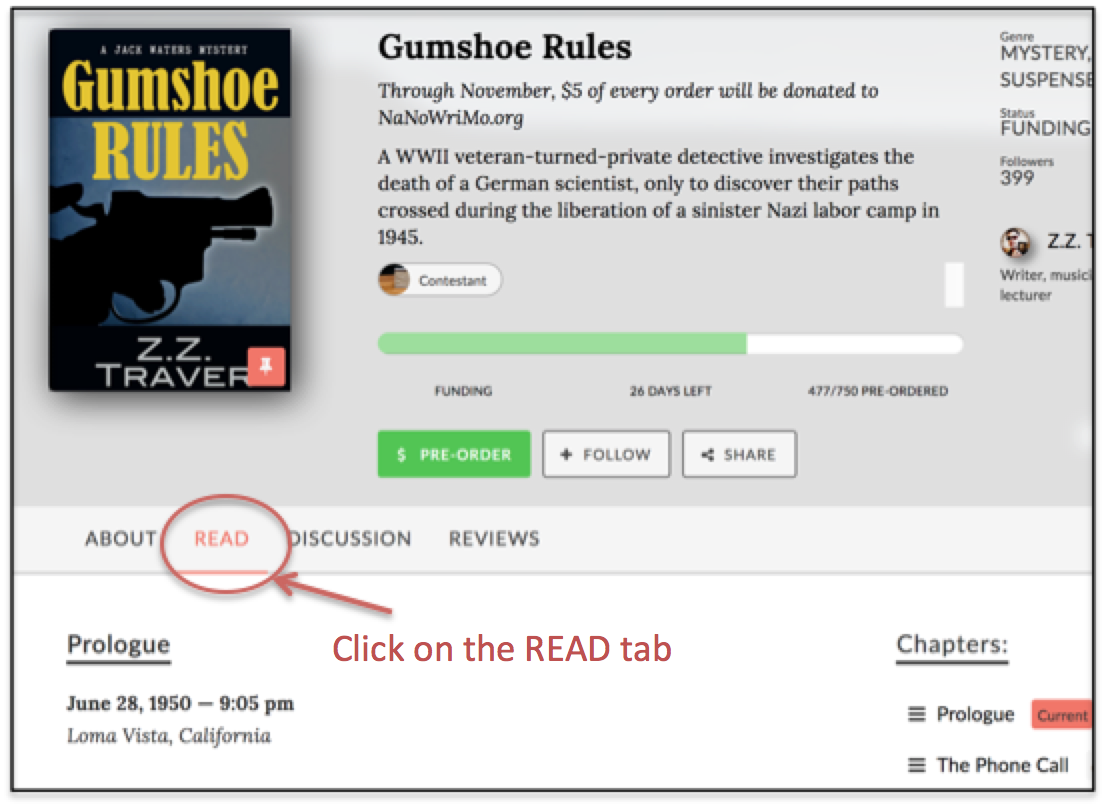 It seems there are still a small number of orders that have not going through. If you have not received an email confirmation from hello@inskhares.com with the subject Gumshoe Rules Confirmation, then you'll need to place your order again.  If you have any uncertainty, you can email hello@inskhares.com directly to check if your order was received.  Please go to https://www.inkshares.com/books/gumshoe-rules  to place your order. 
As this is Thanksgiving in the US, I wanted to take a moment to reflect on how grateful I am to be able to write and publish a novel. Without your support the book would not get published. I am especially grateful to those who not only ordered a copy of the book, but also badgered, spammed or otherwise encouraged other people to do so.  And even though it is sometimes uncomfortable to ask for this favor, it has been nice to be in touch with so many people and hear what so many friends and colleagues are up to.
So thank you everyone for your help! As a reminder, if you can want to reach out to one more person and encourage them to order the book, that would be fantastic!  I'm excited to have everyone along this journey!
--Z.Z. Traver
PS. Back in the spring I attended a writing workshop and met local Detroit author Stephen Mack Jones, who wrote the highly acclaimed August Snow detective novel. I am grateful for his feedback and encouragement upon reading the early chapters of this manuscript.