Sep 5, 2016
Let's Get It Started in Here
In the next few weeks, you are going to see some major heat coming off The Astronaut Instruction Manual. Legendary and Penguin Random House are uniting with Inkshares for a round of publicity surrounding the tv series and the upcoming audiobook release.
That said, I want to reach out to my 300+ followers and remind everyone of you all of this: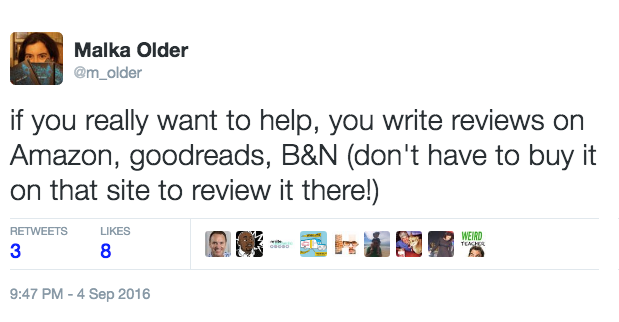 "If you really want to help, you write reviews on Amazon, Goodreads, B&N." It's a tweet from my friend, author Malka Older, whose Tor-released hit title Infomocracy has only five more reviews than Inkshares-released The Astronaut Instruction Manual. (Malka's so good I actually wish she was on Inkshares...and who knows what the future holds?…Infomocracy is a great read and great writing and there will be a follow-up.) And she's right. Your Amazon review really helps now.
Here's the Amazon review link for The Astronaut Instruction Manual. Sign-in, click Write a Customer Review, share your opinion, and hit submit. Each review makes the book more likely to pop up on some young reader's (or parent, teacher, or guardian's) radar.
Imagine writing a review of The AIM and its having a role in pointing out a future of possibility and hope to the next young Neil Armstrong, Sally Ride, or Mae Jemison.
Goodness, what are you waiting for? Write, my friends, write!
Mike
PS And then go and listen to Chapter 1 of Darcy Conroy's The War of Wind and Moon. Consider it a treat and my way of saying 'thank you'. You are awesome, review writers, and so is she. Listen for yourself.