Oct 6, 2017
Friends, Readers, and Sorcerers All,
First off, an apology. A few readers had issues with the Kindle files that went out last week. The Inkshares team quickly fixed the problem, and new e-files will be sent to everyone later today. 
Secondly, books are being printed! There was a slight snafu with the covers so physical copies will be shipping the week of October 17. This has been a tricky book to format and finish, so again, our apologies for the delay. I think you'll be happy with the finished product, though. 
To thank you for your patience, we've put together a special treat that will be included with your physical book when it ships. (Extra thanks to our illustrator Juliane, who did all the work.) Here it is: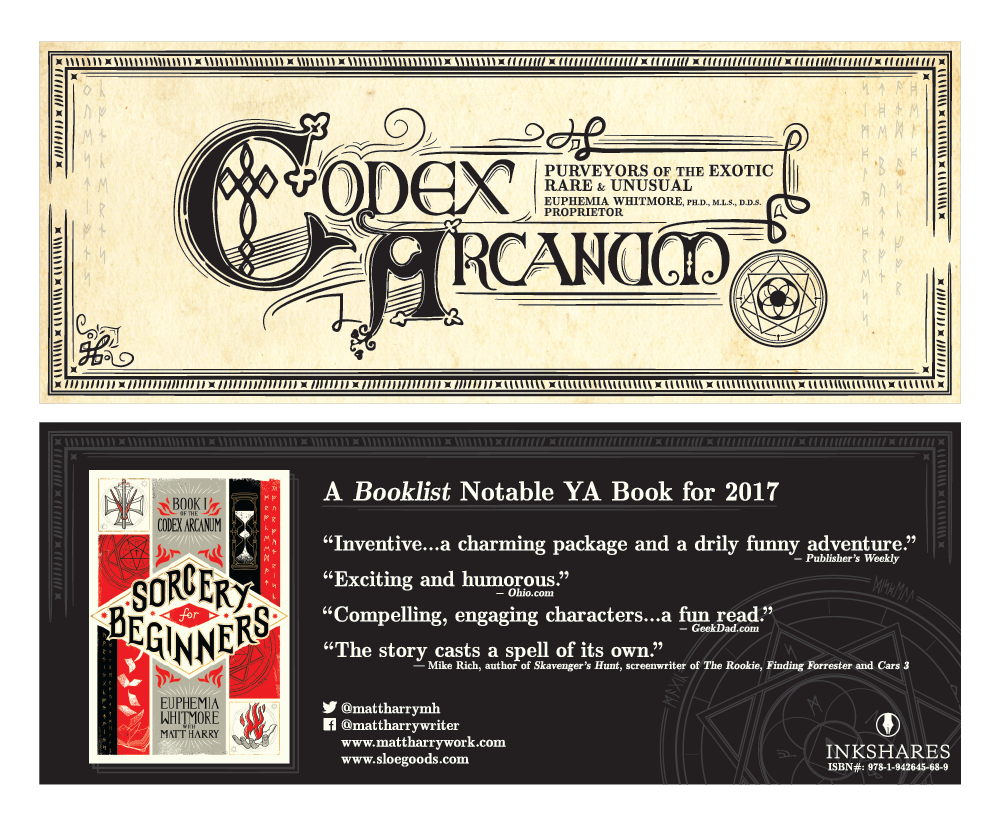 Once you read the book, you'll get the full significance of this bookmark. For now, I'll just say there's a secret code on it that's key to our heroes finding the Codex Arcanum bookstore.
Finally, we've had some more great reviews! GeekMom praised the "compelling, engaging characters" and said you should "plan on reading the book twice." Nivi really got the spirit of what we were going for, and this is my favorite review so far.
Also, Ohio.com gave us a nice shout-out, calling the illustrations "refreshing" and the story "exciting and humorous." 
Hard to believe it, but we're one week away from our first book events! Both Juliane and I will be at the Westlake, OH Barnes & Noble on Friday, October 13 at 7 PM EST, and at Magic Tree Books in Oak Park, IL on Saturday, October 14 at 4PM CST. If you're in the area, we'd love to see you!
Thank you all again for your support and patience. Keep posting those reviews and pics of the book on social media, it means a lot to us!
mh