Oct 4, 2016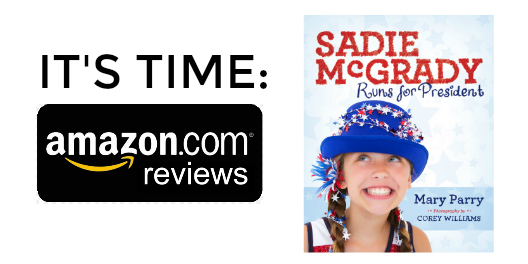 ONE MORE QUICK, IMPORTANT NOTE:
Please take a minute to log into your Amazon account and leave Sadie a review. This helps our book's rankings, which factor into how often Sadie will appear in search results.
IDEAS FOR YOUR REVIEW:
Sadie offers a fun and kid-friendly look at life on the campaign trail and as an elected leader.

As a teacher, I love that the author offers lesson plans and activities on her website: www.MaryParry.com.
This book is full of girl power, with a courageous main character who faces her challenges head-on: a great read for girls and boys alike!
This book encourages kids to share their opinions, something my daughter struggles with. I'm happy she has a role model like Sadie to underscore the importance of practicing important leadership skills!
Talking about elections with kids isn't always easy. This book offers two fun and fictional candidates to help parents and teachers talk about the campaign process in a kid-friendly way.
This book is all about leadership. It has the messages I like as a parent, and the fun my kids are looking for during storytime. 
I love that Sadie is also active on Facebook and Twitter through the author's accounts. I can follow along with updates about the book, as well other empowering updates about kids and leadership.
Thanks so much for submitting your review as soon as you can. This is a great way to help Sadie reach as many little leaders as possible.
Mary & Corey