Dec 25, 2015
Friday weekly update.

Merry Christmas and / or Happy Holidays!

This was a Big week for my project. The Barnes & Noble appearance went exceedingly well! Because I  already hit up my friends and relatives (and their friends and relatives) during the pre-order campaign, I had to rely mostly on my ability to convince total strangers who wandered by my table that the book was worth their time and 20 bucks. 

 
With a target rich environment and a week before Christmas crowd, I hit the sweet spot! Sold 80 copies of my hardcover. Store managers told me that it was the best-selling author appearance of the year and among the best over many years. (Obviously J.K. Rowling and Stephen King etc. don't visit the Salem, NH venue) But another writer attached to a bigger publisher was in the store at the same time and sold 12 copies.

My passion and belief in my project was contagious and my conversion rate with the customers was unreal - around 70% of the people who talked to me ended up buying the book.
The store manager and I hit it off very well and she gave me carte blanche permission to return for follow up appearances Any Time I want to. How crazy is that! I will now use this connection and recommendation to approach other B&N outlets within driving distance. Hoping to spend many upcoming Saturdays doing this and growing my outreach. I won't see the same size crowds or sell anywhere near as many books during these other store visits, but I'll walk away with them (hopefully) keeping a few copies in stock at each new location that I visit.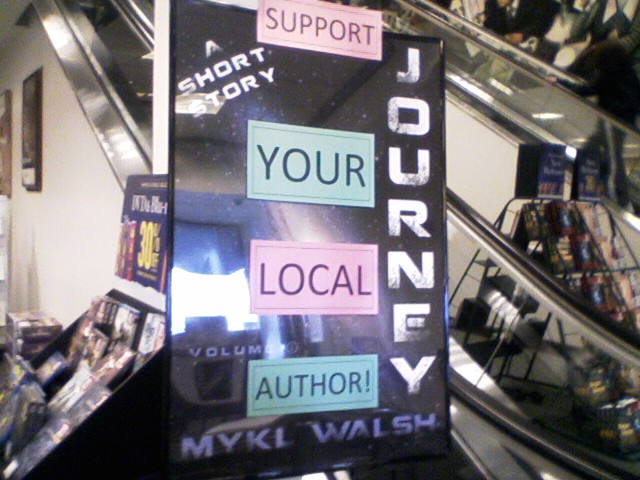 In other news, I did an interview with Fox-News Radio in Fort Myers Florida. My publicist tells me that they will be able to book many more radio interviews as we approach and are into the presidential primaries. The ability to get these interviews is mostly due to my Donald Trump connection, which is told as one of the "method-written" fictionalized stories in my book. (If you've read it, you know what I'm talking about! If you haven't read it yet, try to squeeze it into your schedule:-)

What I want for Christmas is REVIEWS on Amazon, click Here, and Goodreads click Here! (Thank you so much Dave Barrett!) Check out Dave's awesome Inkshares  project! It's All Fun and Games click Here

https://www.inkshares.com/projects/it-s-all-fun-and-games

Please help me spread the word about Journey on:

Facebook https://www.facebook.com/RichFSaunders and Twitter @RFSaunders

Post links to http://www.secretagentman.org/ along with a short comment.
Friend me and follow me, if you haven't already.
As always; Thanks a Million for your awesome support!

I'll keep you updated as we continue this exciting Journey!