Sep 20, 2019
STEVE'S SEPTEMBER BASEBALL UPDATE 
YASTRZEMSKI HOMERS AT FENWAY. From 1960 to 1983, Hall of Famer Carl Yastrzemski hit 237 homers at Fenway Park. Yesterday, Mike Yastrzemski, Carl's grandson, playing for the San Francisco Giants against the Red Sox, hit a homer at that ballpark. The unique name, Yastrzemski, conjures déjà vu. Then to see the grandson playing left field, like the grandfather, the name on the scoreboard, the homer, to see him circling the bases, mixes 40-year-old memories of Carl, thoughts of decades passing, more déjà vu, and the feeling that everything in this messed-up world is going to be all right as long as Yastrzemski is playing baseball. 
SUPERLATIVE: THE OAKLAND A'S  AND TAMPA RAYS. Corporate America loves the phrase uttered from boss to underling, "Do more with less." And that's what the A's and Rays do. The "less" is less money. They amass cheap-as-dirt players, instruct them beautifully, let them blossom into stars, trade some for more abundant and cheap talent, and win. The A's and Rays are in a three-way race with Cleveland for the two slots to qualify for American League wild card game, and a chance to make a playoff run to the World Series. The latter phrase is not applicable to the super-wealthy Red Sox, Angels, and (gulp) San Francisco Giants. 
BALLPARK TOUR. S.F., Oakland, Yankee Stadium, Wrigley Field, White Sox, & Milwaukee. In all my years I've never been to so many major league stadiums in one season. My wonderful wife and son were in the seats next to me for almost all of the games, and that was the best part. My son deftly snagged baseballs at five of the six parks. 
GO. If you can see a game at Wrigley Field, go. 
BARGAIN. Upper deck behind home plate at Yankee Stadium. Great view of the field. Humungous elevators zoom from ground level to the 3rd/4th level concourse. Seat price on Stubhub less than a pair of hot dogs and a Coke. 
CHEAP HOMERS. In the AAA Pacific Coast League, homers were 158% of what they were last year. This year the league switched baseballs to match those used by MLB. It's a thrill to experience a home run. In the process, a homer sweeps the runners from the bases, and hence, most of the hitting team's strategy. Subtlety gets blasted. 
MR. 2000. Congratulations to Giants manager Bruce Bochy for reaching 2000 wins. He also has 2022 losses. And he deserves a Hall of Fame plaque for guiding the Giants to World Series triumphs in 2010, 2012, and 2014. 
GOING, GOING, GONE! The extraordinarily-talented Inkshares staff is working on GOING, GOING, GONE! And it looks like the novel will be published during Spring Training 2020. That's when you will, hopefully, receive your pre-orders. However, don't be surprised if that timeframe is pushed back. After all, it's the book business! 
Any of your baseball-loving and/or well-read friends are welcome to pre-order through Inkshares at any time. Feel free to contact me. 
Thanks so much & Swing For The Fences! 
Please keep mentioning GOING, GOING, GONE! to baseball fans. I've been enjoying Instagram; look me up if you feel like it. Thanks!
TO PRE-ORDER, CLICK THE BOOK COVER!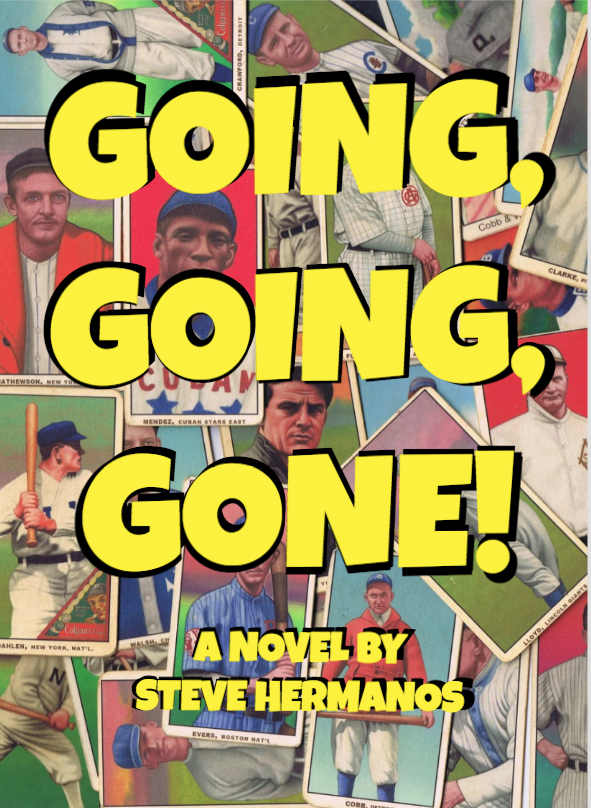 GOING, GOING, GONE ALL-TIME ALL-STAR SLUGGERS (5 pre-orders or more.)


Brian Walder, Ithaca Double Rainbows, SS/Scooper
Erik Taylor, Petaluma Chicken Packers, C
Stephanie Taylor, Petaluma Chicken Packers, SS
Dave Geisler, Mill Valley Millers, 3B
K.C. Hubble, San Francisco Jungians, CF
Gerri L., Ecuador All-Stars, SS
Bobby Michener, Diamond Sports Cards San Rafael Cardflippers, P
Lou Farese, Philadelphia Royal Pythians, 2B
John Cecchi, Sausalito Oyster Shuckers, SS
Bill Forrest, Albuquerque Isotopes, CF
Julie Sessions, Albuquerque Isotopes, P
Mike Testa, Team Free Solo, Safety Advisor
Eivor Taylor, Sausalito Sense Diviners, P
Patrick Taylor Sr., Sausalito Brain Mixologists, Captain
Joan Metsch, Guilford Syrup Tappers, SS
Mike Knapp, Brattleboro Yankees, CF
Charles Mandel, Helmar Baseball Cardcrafters, Genius
Katie Zang, Albuquerque Isotopes, RF
Patrice McC., Baltimore Friends, P
Liz Lawrence, Santa Fe Solons, 1B
Stephanie Adler, Baltimore Friends, LF
Robert M.G., New York Lifesavers, RF
Ben Knapp, New Orleans Fanboaters (football), RB
Jacob Knapp, NYC Grandmasters, 3B
Tom Skuda, Sausalito Crooners, SS
Mike Hart., Atlanta Slicers, 1B
Victoria H-M., Mill Valley Educators, Positive Attitude Coach
Gabby Chan, Marin County Child Herders, P
Leon Silverman, Sausalito Mets, SS
Patrick Taylor Jr., Wisconsin Fatemakers, P
Rob Taylor, Brooklyn Vibemakers, RF
Phil Taylor, Portland River Rafters, LF
Grace Cricket, Whitewater Sensemakers, Mgr.
Julie Ov., NYC Tech Crunchers, CF
Veronica Perez, Mill Valley Flag Football, RB
Tim Ural, Tam Junction Fogcutters, C
Regan Ural, Tam Junction Linchpins, SS
Mark Humphries, San Francisco Connoisseurs, RP
Gail Stark, S.F. Property Flippers, 2B
Tracy Dutt., Virginia Lasers, P
Sundude, Kitty Hawk Flyers, C
Ted Hall., Albany Bookgrinders, CF
Leo Valiquette, Bane Of All Things, Writer
Charlie Denby, Mill Valley Educators, P
John S., California Helmar Collectors, 1B
Kris & C. Gas., Del Ray Ray-Rays, Owners
Scott Jamp., Sausalito Oyster Shuckers, P
Stefano Scali, Sausalito Floating Homers, C
Joe Burns, Sausalito Oyster Shuckers, Mayor
Linzy Coll., Iowa Soul Redeemers, SS
Paul Winston, New York Cosmos, Goalie
Jennifer F., New York Stockflippers, Mgr.
Joanna P., New York Stockflippers, Owner
Miles R., New York Stockflippers, P
Jeff Holl., Sausalito Lumber Reclaimers, P
Doug Simon, New York Frisbee Flingers, 3B
Dan Fost, Mill Valley Millers, Coach
Gerry R., Sausalito Boatriders, Cpt.
Mike Hood, Greenbrae Houseflippers, P
Bradford Peck, New York Dealmakers, SS
Arthur Orduna, New York Lookouts, P
Ronald Grels., New York Kneecappers, P
Ariana C., Da Vino Coffeeslingers, P
Yovani Cast., Da Vino Coffeeslingers, Chef
Elizabeth Cuervo, Da Vino Coffeeslingers, Manager
Gordon H., Sausalito Picture Framers, SS
Lia M. & Carter J., Night Cafe Hall of Fame 
Chris Ryan, New York Cineastes, Film Crew 
Peter Gelfman, New York Prop Magicians, SS
Kerry Barlas, Mill Valley Millers, SS
Alistair Goldfisher, Brooklyn Trolley Dodgers, RF
Laura Metsch, Brattleboro Yankees, Mgr.
Mike Knapp, Green River Yankees, Driver
Charlie Crawford, Toll Bros. Demolition, SS
Ed Burns, SF Team Brothers 'N Sisters, CF 
Beth Burns, SF Team Brothers 'N Sisters, LF
D. Krasnoff, Team Navy, Coach
E. Krasnoff, Team Navy, G.M.
Elizabeth C., Team DiVino, Nutritionist
Brian Stadtmiller, Prudential All-Stars, CF
Barnaby Conrad, Washington Absinthe Sippers, P/2B
Charles Garner, New York Limo Hailers, CF
Jacqui L-W., Mill Valley Visionaries, SS-2B
James R., Marin County Muckrakers, P
Stefan Smith, Sports Massage Marin, 3rd base coach
Christine Smith, Marin County Hairclippers, P
Devin Crowley, Amsterdam Guffawmeisters, P
Robert H., New York Skiiers, CF
Susan H., New York Mahjohn All-Stars, Owner
T. Wexler, L.A. Dealmakers, SS
Adam Klausner, Ithaca Royal Palmists, P
Adam Klein, Ithaca Royal Palmists, RP
Scott Knapp, Ithaca Royal Palmists, SS
Tracy Dutton, Ithaca Royal Palmists, 2B
Al Schulzycki, Ithaca Royal Palmists, C/CF 
Bennett Johnston, Mill Valley Millers, 3B
Jonathan Weintraub, Trader Vic's Scorpions, P
Kenneth Palmer, Houston Stan Keys, Team Doctor
Douglas Zang, Southern Comfort Bottle Hoarders, C 
Jon Rutchik, Mill Valley Troubadors, P
David B., East Hampton Fly Casters, 1B 
Joe Paulino, Sausalito Voiceovers, P
Jason Abrams, Dalton Tigers, 2B
Stephanie Ader, Dalton Tigers, 1B
Jim C., San Francisco Dealmakers, P
Helen Yang, Tiburon Sharks, SS
Ansel H., Sausalito Yankees, P/SS
Karin Taylor, Sausalito Winemakers, Mgr.
Adam Tattlebaum, Dalton Tigers, 2B
Duncan Plexico, L.A. Guitar Riffers, P/OF
Ellen H., Sibling Hall of Fame, CF
Robert & Susan H., New York Giants, Owners
Kirk Davis, Arizona Blacktop Melters, LF
Kate Stamps, Arizona Paint Sprayers, CF
Adam Klein, Ontario Seal Clubbers, CF
Beth B., San Francisco Elites, RF
John Bader, San Juan All-Stars, P
Leila Samrad, Sausalito Sartajians, Mental Health Coach

GOING, GOING, GONE  791 
Steve
 
SteveHermanos@yahoo.com
www.SteveHermanos.com
Facebook
Instagram
415-497-4480