Aug 30, 2017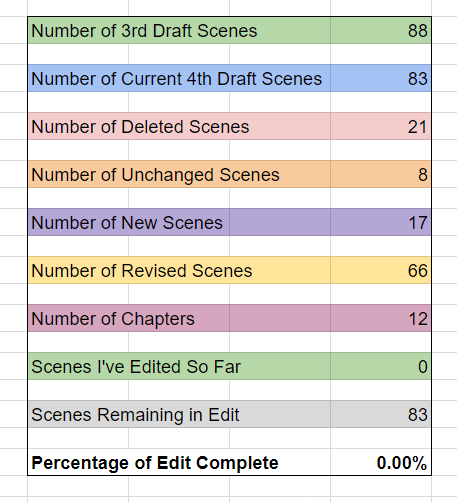 Yesterday I got the clearance from editing master extraordinaire Matt Harry to start writing my final draft of Deus Hex Machina. Today I built my new editing scene list to help as a roadmap for what I'll be doing for the next month. As you can see, most of the book is changing in some way, although a lot of the changes are going to be minor.  I love this part of the process: Getting to dive into the book, polish up the rough edges and round out the wonky corners. It's like falling in love with the story in a completely new way.
I'm unsure what happens once I'm done with this draft, so for the moment I'm going to assume that I go into an edit phase like the rest of my cohort. My guess is that such an edit will be very brief because we spent so much time upfront preparing for the 4th draft writing phase. 
I can't help but smile to think how far Isidore RAM has come. I am so proud of this little book, I can't wait for you to get a chance to read it.
Cheers,
Amanda