May 23, 2023

20 June 2023!
After more delays than anyone would like, this is finally happening! 20 June 2023, four weeks from today, will see the North American release of Unnatural Ends. What this means for you, if you've pre-ordered any physical copies, is that you should CHECK and UPDATE YOUR MAILING ADDRESS. It has been a while, after all, and if you've moved in the meantime (as I have) you don't want the thing you've paid good money for to be sent off to the wrong place.
You may have noticed that I specified North American release up there. This is because we're also getting a UK release a month later, in July. (I think this means that those of you in the UK will have the satisfaction of getting your ordered copies in before Waterstones.) Inkshares is breaking into the UK market, and guess what they're using as a battering ram?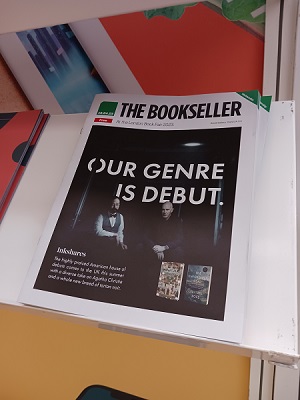 That's right. That's me on the cover of the issue of The Bookseller distributed on the second day of the London Book Fair last month. The other guy is Fulton Ross, author of The Unforgiven Dead, which you should definitely check out because it's a darn good read.
We're just counting down the days now!