Aug 10, 2015
Friends and readers:
As our earliest supporters, many of you have been telling us over and over that you think "Blasted by Adversity: the Making of a Wounded Warrior" deserves wider recognition. Well, we received some shine Saturday night in Orlando, when the book received a gold medal at the Florida Authors & Publishers Association's President's Awards banquet.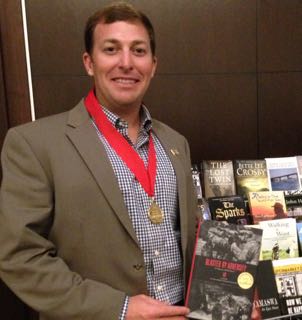 Competitionfor our category was fierce and there were 31 judges including librarians and publishing professionals from out of state who read the entries, but "Blasted" proved to be a winner. We were both available to receive the medal in person, so it was extra special. Earlier today, Luke talked about the award on WCTV Eyewitness News at Noon, and we are being encouraged to enter the book in national competitions. Julie will be giving a talk at the Tallahassee Writers Association's monthly meeting about the experience of writing someone else's first-person story, and we are open to book signing invitations through the fall. 
We're also grateful that the book is still holding strong with 5 stars on Amazon and GoodReads. If you haven't already, please consider adding a review or rating! 
 Again, all appreciation goes back to you — our earliest supporters and readers. We wouldn't be in our second printing if not for the encouragement we received early on. Thank you. 
 Luke Murphy – www.LukeMurphy101.com 
 Julie Strauss Bettinger - www.JulieBettinger.com