Aug 3, 2016
UPDATE!!!
First and most importantly is a reminder that An Unattractive Vampire will be An Unattractive Audiobook at Audible.com starting the 23rd! So if you're tired of physically reading the book with your eyes and would rather have it read TO you like you were some kind of Roman Emperor/Empress, lying on a couch being fanned and fed grapes, head on over to Audible and preorder it today! (Fans, couch, grapes, and Roman titles not included.)
Next is the BIG NEWS!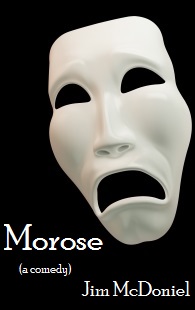 That's right! There's a new book contest, this time with Geek and Sundry, producers of pretty much most of the shows I watch, and I've decided to throw my hat into the ring with my second book currently entitled, Morose: A Comedy.
The pitch: Death gets laid off at the end of the world.
The synopsis: The End is nigh. Armageddon has come. And with the four horseman taking over soul-collecting duties from the children of Death, the tragedy-masked member of the Reaper family most dedicated to his work, Morose, has something he never expected to possess: time. If only he had any idea what to do with it.
With the helpful prodding from his eternally irresponsible twin brother and vengeful, sometimes murder-god sister, not to mention those few humans who don't immediately wet themselves in his presence, Morose will explore the most puzzling questions the mortal realm has to offer, like:
why caves don't count as shelter,
why immortals shouldn't be telemarketers,
pinball, 
proper wedding bouquet etiquette,
the meaning of life,
...and his brother's insistence that he buy a television screen at least seventy-two inches wide.
However, Morose better find his answers soon, because the apocalypse is heating up and as the death toll rises, he might just be the only one who can stop it.
In the tradition of Christopher Moore's A Dirty Job and Terry Pratchett's Reaper Man, Morose is a comic tale of life, Death, and the end of the world.
If you'd like to view a sample chapter or pre-order the book, you can head over to the project page for Morose: A Comedy.
A few of the contest details...
This contest is a little different than the last. Instead of total number of books, its based on number of unique readers buying books. So rather than buying a book for each of your coworkers, cousins, neighbors, and goth nieces and nephews, I need you to convince your coworkers, cousins, neighbors, and goth nieces and nephews to buy THEIR OWN copy.
The three books with the highest individual reader count by November 1st will be published by Inkshares and have the opportunity to be a part of GEEK AND SUNDRY! Have I mentioned how much I love Geek and Sundry? Let me count the ways.
How about this picture of me with Felicia Day?
Or this OTHER picture of me with Wil Wheaton while wearing a Tabletop t-shirt?

Or maybe there's the Critical Role fan fiction I wrote? 
Yeah. I'm a fan. It would be a huge deal for me to be a part of their community. So what do you say? Let's make Jim-erica Book Again!