GRAVEYARD WHISPERS FOR THE KNIGHT PROPER
"An often entertaining story of swords and sorcery with a dash of the macabre" - Kirkus Reviews

"A new Dark Fantasy novel from an incredibly talented writing duo" and Best Fantasy Book for August 2016 ― Best Fantasy Books HQ

"The Knight Proper is, at its undead heart, an entertaining and oddly touching story about two people trying to reconnect, with one delightfully wicked sequence of events that, frankly, I wish I'd thought of. Readers of dark fantasy would do well to check out Matt and Adam's efforts." ― Keith C. Blackmore, author of the Mountain Man series

"Greven and Deller have crafted a wonderful world of witches, knights and the undead for their tragic hero and twisted anti-heroine to traverse. Witty dialogue and well-developed characters build an atmosphere reminiscent of the mystical and shadowy lands of LeGuin's Earthsea Trilogy." ―Janna Grace, author of The Talkers are Talking
WHAT'S IT ABOUT?
THE KNIGHT PROPER is the story of Edwin, a disgraced Knight on a mission to reconcile with his long-lost daughter Mela, before her monstrous army of undead warriors lays waste to an entire Kingdom.

Named for their ability to teleport from one graveyard to another, 'Gravewalkers' are witches able to make use of the emotional residues left behind in cemeteries and burial grounds to power their magicks - and their leader Mela is seeking revenge against the Knights for orchestrating the death of her mother.
With hatred in her heart, the once-serene lands of Riesenstadt descend into chaos as Mela and the other Gravewalkers abandon their peaceful ways as caretakers of the dead, to instead harness their dark heritage against the Knight-Lord and his men. Worse is Mela's attempt to create a sentient undead creature, the first of its kind, threatening utter ruin for all.
Joined by an irascible bard with her own dubious intentions, Edwin is now the only one who can put a stop to his daughter's quest for vengeance. To save everything he knows, he must become more than just a Knight… he must become the Knight Proper.

WHO ARE WE?
We're Adam and Matt, one-part writer, one-part screenwriter.
Adam wrote the forthcoming novel, GREY BARGAINS, along with enough short stories to choke a horse (we have nothing against horses, we promise).
Matt worked on the Dungeons and Dragons-licensed videogame NEVERWINTER NIGHTS 2 and also wrote the soon-to-be-released feature movie MANHATTAN UNDYING from Paramount Pictures, starring Luke Grimes (AMERICAN SNIPER) and Sarah Roemer (DISTURBIA). His latest project is the adaptation of Keith C. Blackmore's novel, MOUNTAIN MAN, a post-apocalyptic love story about an awkward loner in a zombie-infested world, with the Traveling Picture Show Company producing.
And if you're into good-old-fashioned human interest stories, we first met seventeen (!) years ago, when Adam competed for a high school wrestling team and Matt coached it.
Yes, our team won a league championship.
Yes, we shaved Matt's head.
No, it wasn't pretty.


OUR HEROES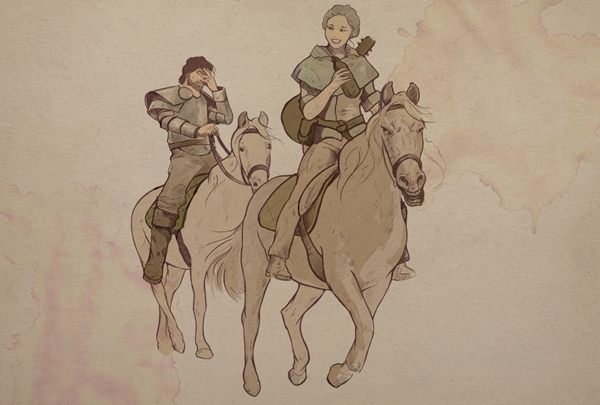 Edwin, the bard Cass Lethellon and her fiend of a horse… Cass Lethellon is on a mission to pen her first epic tale and Edwin is the subject. That is, if they don't strangle each other first.
THE KNIGHTS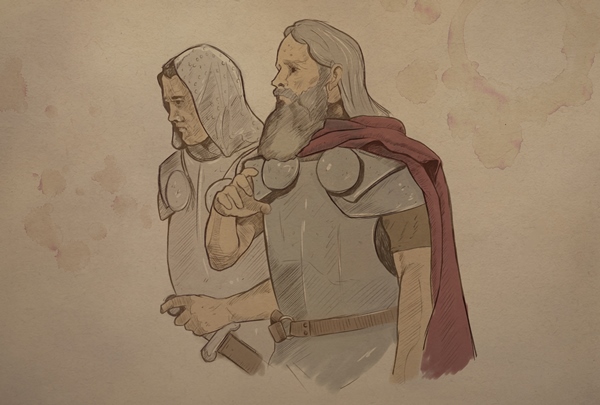 The Knight-Lord Renton and Edwin's half-brother, Alain… Complete victory against the Gravewalkers and their undead army will require more than just duty and honor.
THE GRAVEWALKERS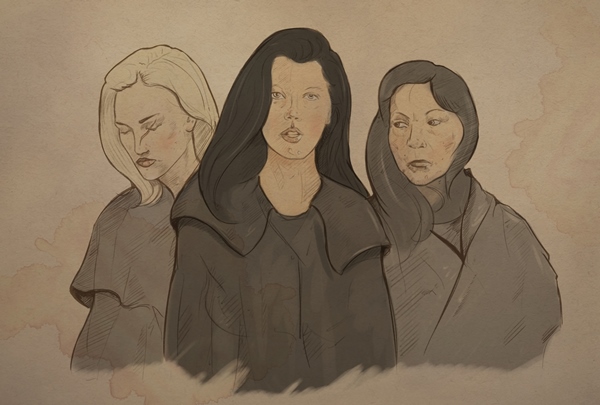 Mela and her two Gravewalker sisters, Acacia and Elaine… Survival against the Knights' relentless campaign means the interruption of their old traditions of healing and nurturing, but to what end?
Artwork: Brian Garabrant

Questions or if you just want to say hello: theknightproper@gmail.com
Adam's Author Page: https://www.facebook.com/adamwritespages