Meet Elma--musical prodigy, resident of the safe side of the street, and practitioner of an existence in which, reliably, Not Much Happens. Her love life is acceptable, her best friend is her source of vicarious adventure, and her purpose is ... undetermined. Everything moves at a reasonably boring pace until bladelike fangs dig into her flesh to obliterate everything she ever knew to be true. A curse has been lifted, a pact broken, and now
Music isn't just music,
lovers can be monsters,
and Elma isn't human.

Adagio introduces readers to a heroine who is about to learn that she is leagues stronger than she ever thought she could be, more passionate than she dared to believe, and crucial in ways she could never have fathomed. In a symphony of vampires, werewolves, evil and magic, Elma sings a pivotal song. Watch as she learns the tune.
----------------------------------------------
A Bit of Context
Muse is a series in four parts (or movements, if you will). I wrote it with my head in the clouds, my heart on my sleeve, my seat belt fastened and my tongue lodged firmly in my cheek. What I hope that means to you as the reader is that this novel is evocative of a world of fantasy, romantic, suspenseful and funny as hell (or at least a little bit witty). I previously self-published an earlier version of the first installment in the series, and the novel you see here is revised and expanded from the original, based on Goodreads and other key reader feedback. Adagio contains one more pretty fundamental change to the plotline--I've altered one side of the love triangle to make it a same-sex relationship, which I think takes everything in an extremely cool and engaging new direction, adding several layers to the book's characters, history and context.
 Here's what the Goodreads community had to say the first time around (current rating is 4+). Feel free to check out the full set of ratings and reviews on the Goodreads Overture page as well: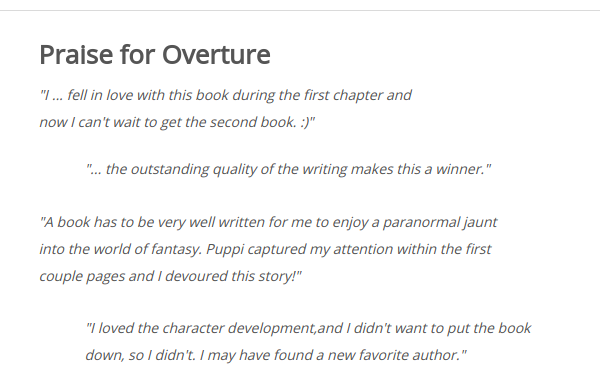 You'll see that I've placed a quote in italics at the top if each chapter. That's just to give you a bit of flavor at a glance into the content, in hopes that it whets your appetite for more. Here's are a few examples: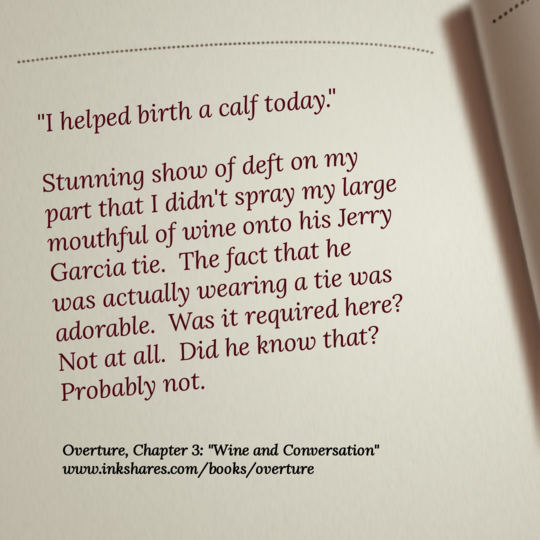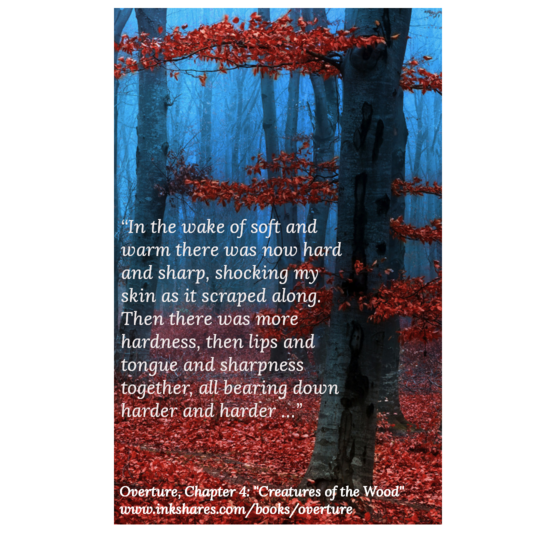 Finally,the Inkshares tool offers some excellent commentary functions. I would love to have your input on all aspects of the book in order to make it the best it can be. Thank you for listening, and enjoy!

--Zaide