Mar 30, 2017
Machiners,
My most ardent and unabashedly enthusiastic supporters! Good morning!
Uh oh, I hope none of you are malfunctioning today - do not close this email !!
Believe it or not, we are now less than two weeks away from publication of The Last Machine in the Solar System (April 11!!!). There's been lots of exciting news lately, which I'll mention in subsequent updates. 
Here I want to hit a few critical points relevant to YOU, benefactors of Jonathan, The Last Machine:
1. If you bought a book during the CONTEST, you should have received it. Whether that is a hard copy paperback or an eBook. Didn't receive your book? Don't know what I'm talking about? Email me please and let me know what's going on: matthew.sobin@gmail.com
Let's make sure everyone who put up money a year ago when this was just an idea gets the final product! eBooks are available for download by logging into the Inkshares website and going to the webpage for The Last Machine.
2. If you have received your book, please read it! Seems obvious, right? In theory, one of our big advantages is that this is a 60 page illustrated novelette. It can be read in 1-2 hours. And that brings me to...
3. Leave a REVIEW! This is possibly the most critical thing you can do. Read the book? Great! Please go onto the book's Amazon page and tell others why you LOVED it :-) Authors need 100 reviews before the Amazon algorithm takes them seriously and starts suggesting the book to random Amazon visitors. Here's our Amazon page: Last Machine on Amazon
Also important: You can copy the same review over to Goodreads. So far we're doing really well with Goodreads reviews. Check them out here and leave your own: Last Machine on Goodreads
4. eBook holders, grab a paperback! This can make a huge difference as we push The Last Machine to a wider audience. Go to your local independent bookstore and see if they have The Last Machine in the store! They don't? They'll order it for you! And this may bring about a larger wholesale order from that store. They'll say to themselves, "Hey, what's this cool looking book that brought this person in here with such enthusiasm??" That's the idea!
Can't make it to the store but still want a paperback? Purchasing on Amazon helps too. Then when you leave an Amazon review, it will be shown as a "Verified Purchase" review, which further helps the Amazon algorithm. 
5. I'd love to know what you think of The Last Machine in the Solar System. You've now read the book, left your reviews, and have strong opinions about the story. Great! Shoot me an email. I'd love to hear your personal reactions to Nikolai and Jonathan's journey to the ends of the solar system (and back)! 
Email me here: matthew.sobin@gmail.com
Signing your books!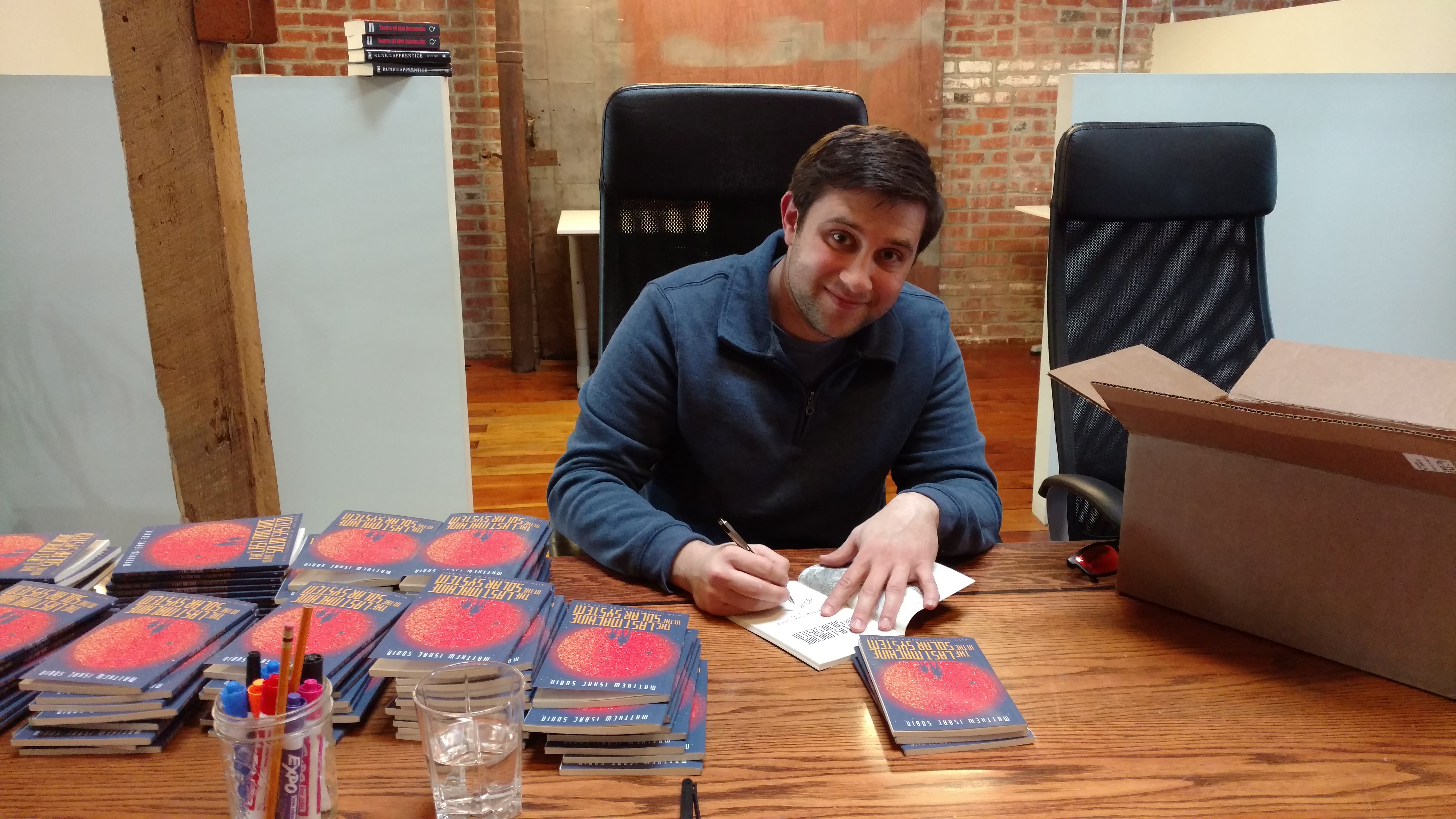 And for those who haven't seen it yet, the final front and back cover!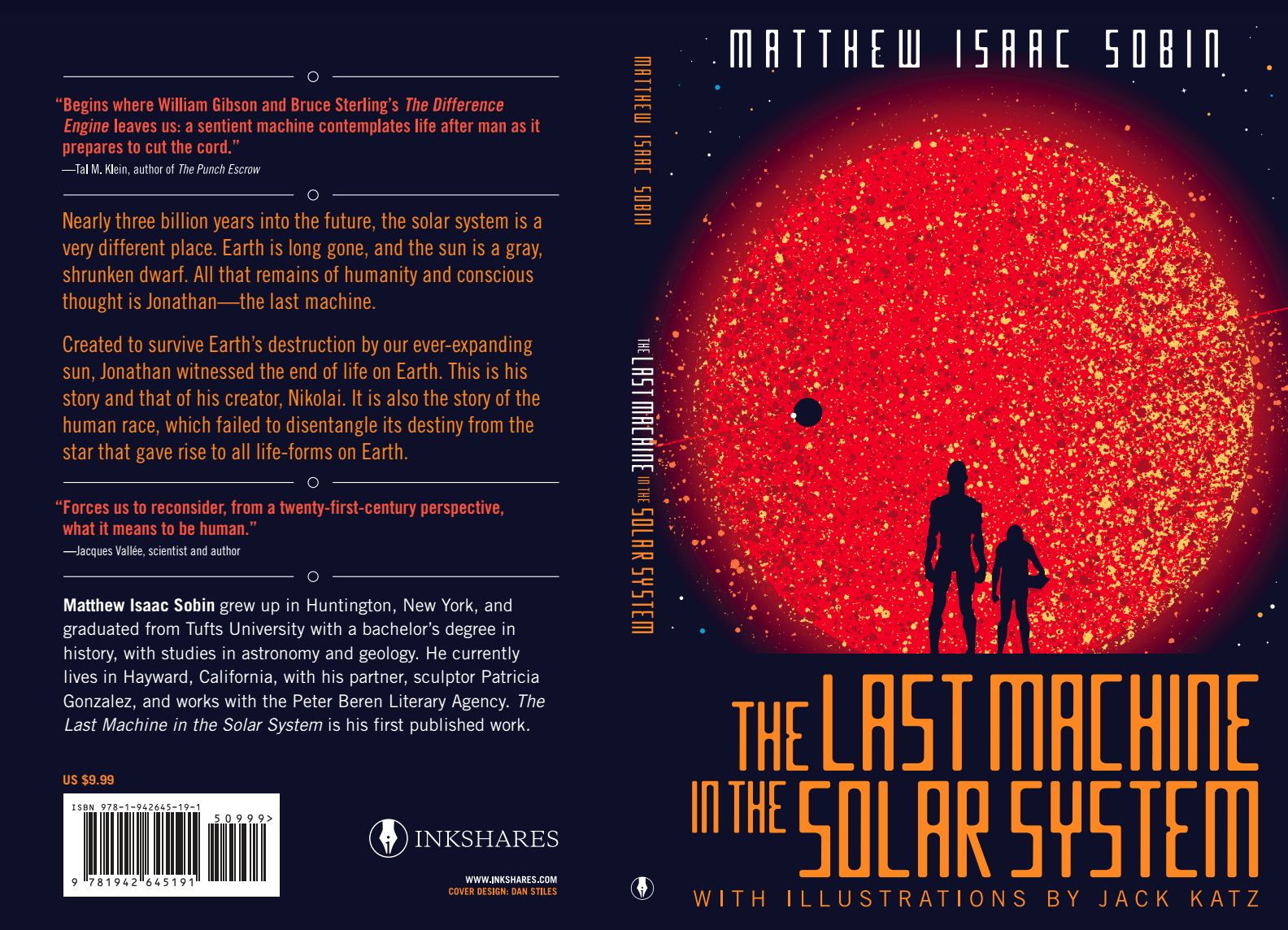 Stunning work by artist Dan Stiles and the design team. Also, my sincerest thanks to authors Tal M. Klein (author of The Punch Escrow - check it out on Inkshares!) and Jacques Vallee for their wonderful back cover blurbs.
Expect some more frequent updates as we hit pub day and beyond! More to come!
-Matt