UPDATE #5 WE GOT BACKED BY US CONGRESSMAN JOE GARCIA!!
Congressman Joe Garcia (D-FL) has backed The Astronaut Instruction Manual! WOWOW! Congressman Garcia is famous around our household as the sponsor of the STEM Innovations Networks Act. Thank you, Congressman Joe Garcia, for you support of STEM education and science!
UPDATE #4 DOUG ROBERSTON ENDORSEMENT
Rockstar 4th grade teacher & He's The Weird Teacher author Doug Robertson just wrote the most amazing blurb for the back cover of The Astronaut Instruction Manual. Doug is a lightning rod educator, empowering other superhero teachers around the world (and nightly on Twitter around hashtag #WeirdEd) by his validation of unorthodox-yet-wonderful-successful teaching methods-slash-and teachers. He is a maverick, a peer, and his students cherish him, and their parents praise him, and we are completely over the moon for Doug's endorsement!
UPDATE #3 ALYSSA CARSON WRITING BOOK'S FORWARD
There is perhaps no more perfect case study individual for whom The Astronaut Instruction Manual is written than Alyssa "Blueberry" Carson. Alyssa started her dream of going to space when she was just 3 years old. She is now 13, and is well on her way towards making her dream of space a reality—including having completed 14 Space Camps , a TEDx Talk, and been recently interviewed by BBC News. Who better to write the forward for The A.I.M. than future Mars astronaut Alyssa Carson? We are thrilled to have Alyssa on board!
UPDATE #2 RACHEL ARMSTRONG ENDORSEMENT
More #AWESOME: TED Fellow Dr Rachel Armstrong has delivered a powerful endorsement of The Astronaut Instruction Manual!
UPDATE #1 LEE BILLINGS ENDORSEMENT
Mike Mongo's The Astronaut Instruction Manual endorsed by best-selling 'Five Billion Years of Solitude' author Lee Billings!

-Astronaut Instruction Manual -
"My name is Mike Mongo and
I'm an Astronaut Teacher."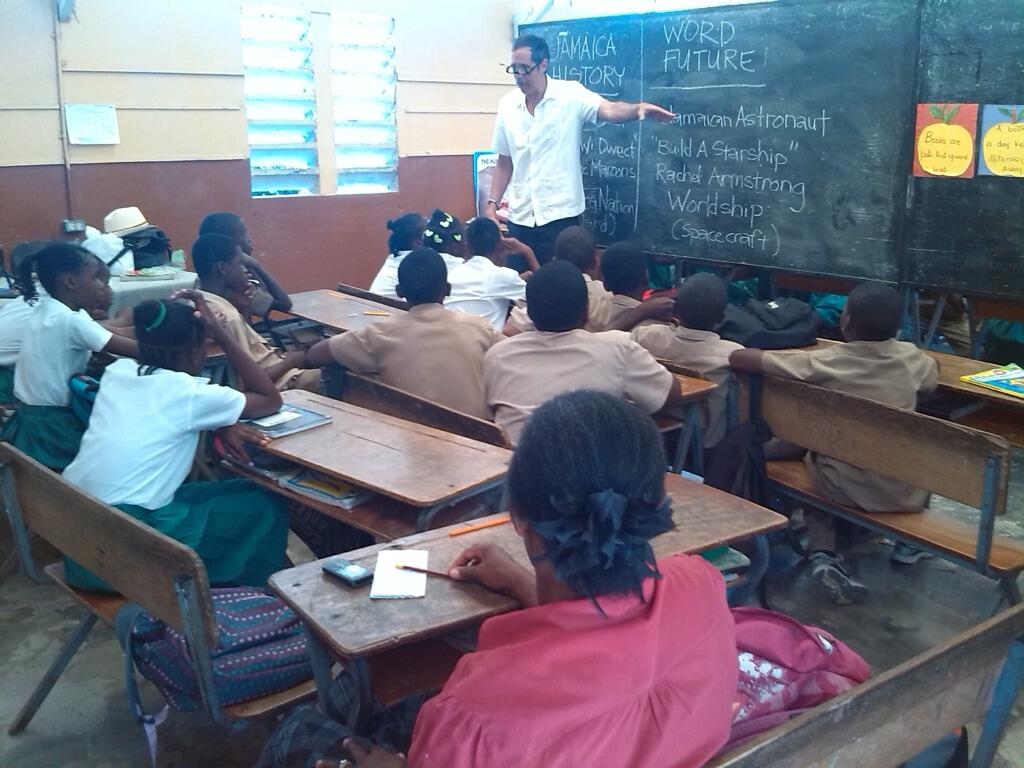 Since 2008, as an invited guest teacher, I have visited schools and classrooms all over the world to let today's young students aware that tomorrow's jobs—the best jobs ever!—are in space.
Astronaut teacher is pretty much the greatest job in the world. I travel, work with amazing people, and best of all meet with young students who love everything about space and science.

Many of these students already know exactly what they want to do when they grow up—go to outer space!—and have just been waiting for some person (i.e., an astronaut teacher) to tell them that which they've been longing to hear. Which is this:
"If today you are between the ages of 9 and 12, by the time you are out of college—around year 2025—you will have the opportunity to be among the first human beings who live, work, and play in space."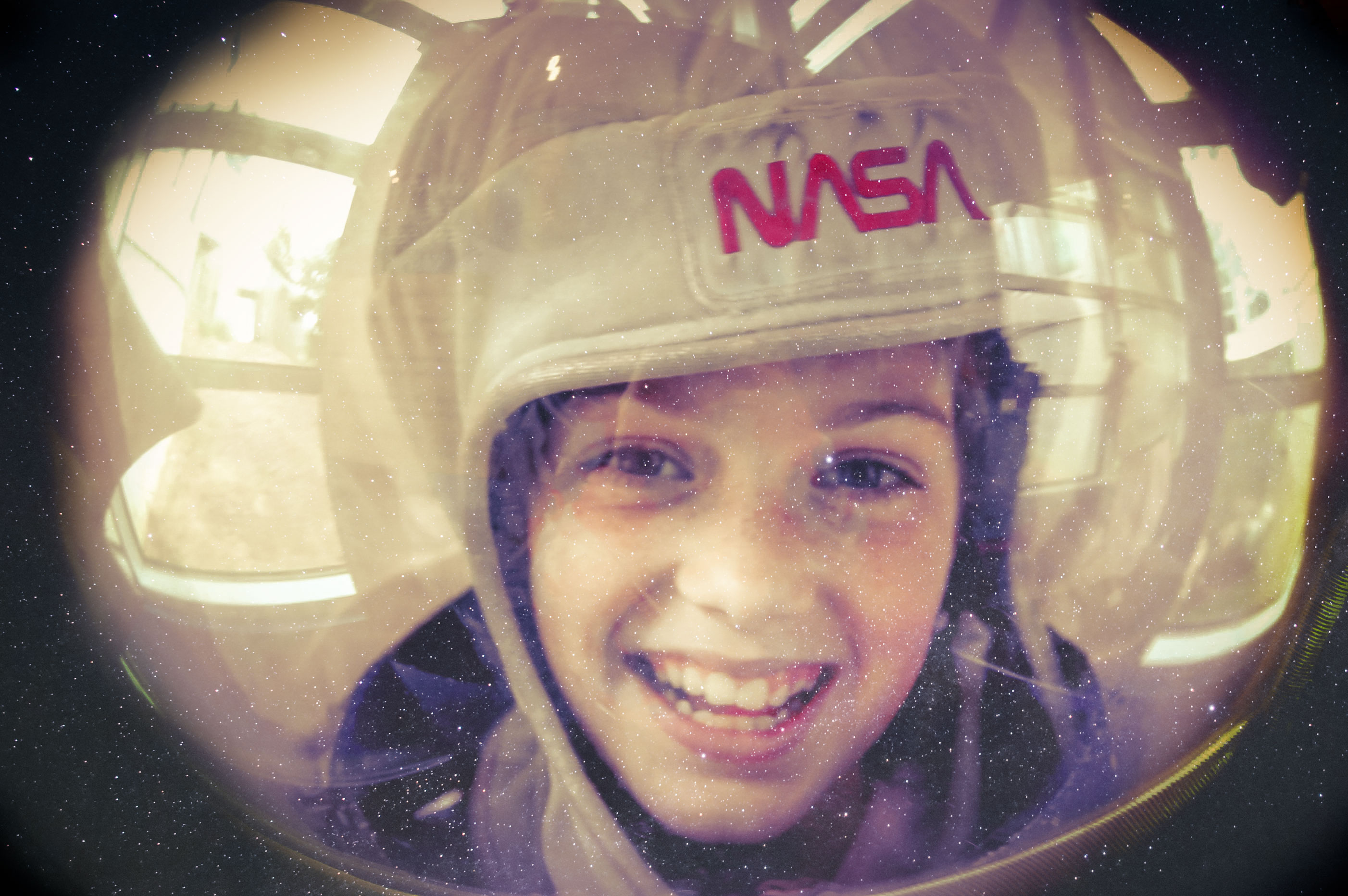 Everyday I share what I call the three magic questions:
How are you doing?

What do you want to be when you grow up?

Have you thought about doing that in space?
These three questions get students thinking of themselves-and-space as one idea. For instance, explain to kids who want to be professional athletes that they can do that in space, they go all gosh and wow right before your eyes.

And that is key. Allowing students the freedom to imagine themselves doing what they love in space is key. It all comes down to the simple fact that kids—like many, many of us grown-ups—want to get to space.
Our job, as grown-ups, is to provide them with the tools to make their dream of space become our future and their reality. Our job is to let them know their dream job can be working in space. Which is why I wrote The Astronaut Instruction Manual: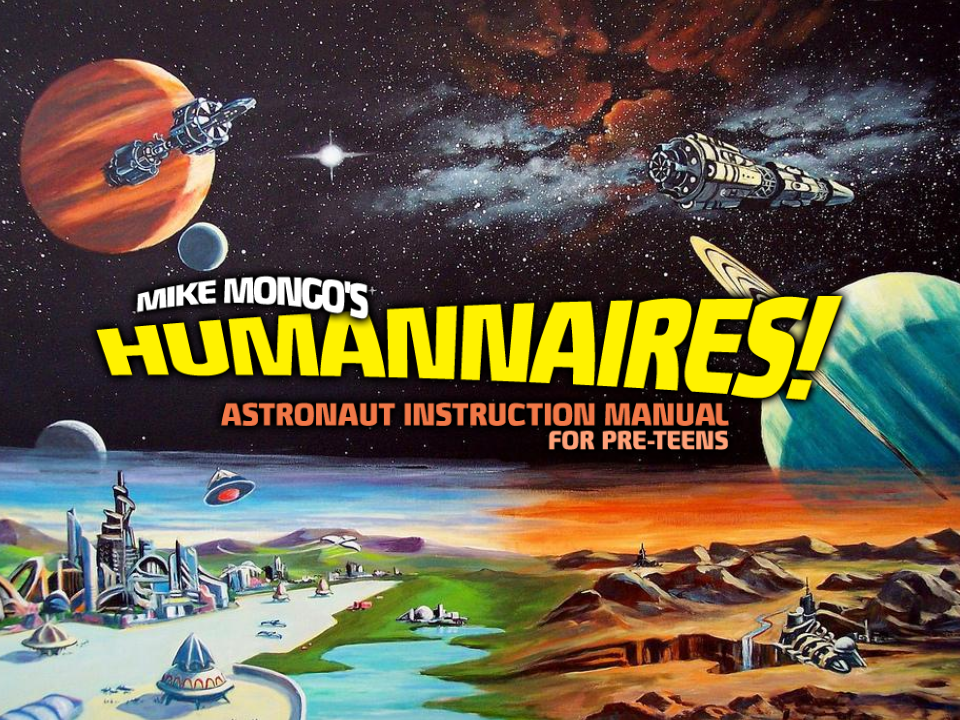 HUMANNAIRES!
The Astronaut Instruction Manual (aka Mike Mongo's
HUMANNAIRES!) is an actual working astronaut instruction manual. It is created to let today's space-loving young students who want to live, work, and play in space know that they genuinely do have that opportunity. Just by their being 9-to-12 years old at this moment in human history, today's young students can be one of the Humannaires*, the next-generation of astronauts, by the time they are out of college.
*(BTW the name "Humannaires" is inspired by the legendary outlier team, "the Legionnaires".)
from The Astronaut Instruction Manual:
If you are not yet in high school,
the next few years are going to be the most important for you
if you plan on being one of the next kind of astronauts,
the Humannaires,
by the time you are in your twenties.

Like many of us,
you are planning on becoming a space-dwelling human being.
That makes you...a Humannaire!

Astronauts
and cosmonauts
and spationauts
and taikonauts
and gaganauts
paved the way for us.

Nauts were actually the first trailblazers to get off Planet Earth
and to go out into space.
In their time and even still today,
'nauts were unlike any other human alive.
'Naires are unlike even 'nauts.

We are the first humans to move out to space!
...
Advice That Stands
Even If You're Staying onEarth
Besides letting today's students know that tomorrow's jobs are in space, the Manual shares real science and insights into what is expected from today's students who want to one day live out in space. I have made a point of outlining exercises and practices of personal responsibility which will lead to developing skills necessary to becoming one of the next-generation of space explorers from Planet Earth.
Remember, tomorrow's space work force will not be dependent on simply physical capacity, or good looks, or gender or race or religion or preference or nationality, or military service, or even academic success. Tomorrow's space force qualifiers will be whether or not you can a student get the job done at least as well as their own peers!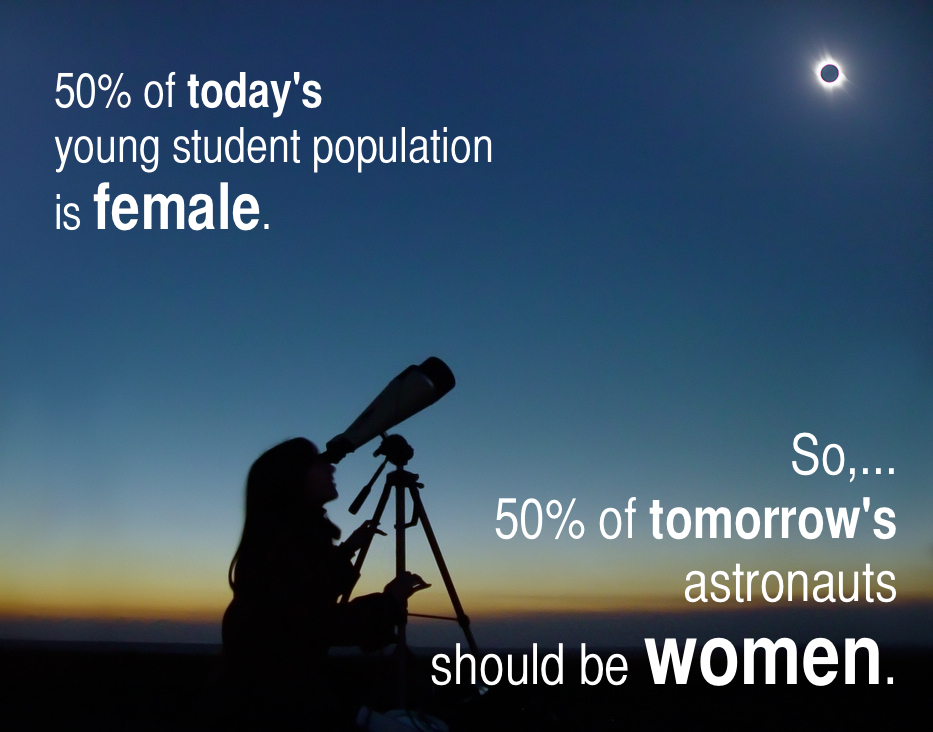 You must know that The Astronaut Instruction Manual is not like other "tween" kids book. I believe the reason my quest to encourage kids to pursue careers in astronautics and space-science-related fields is so well received by my audience is because I challenge the thinking of young students. Young people appreciate this, and so do adults. Of course, any kind of astronaut instruction manual that did not challenge young students would have to be a fake. Students would know it. Grown-ups would know it. Importantly, the core message to young persons is one of focus, diligence, patience, and self belief.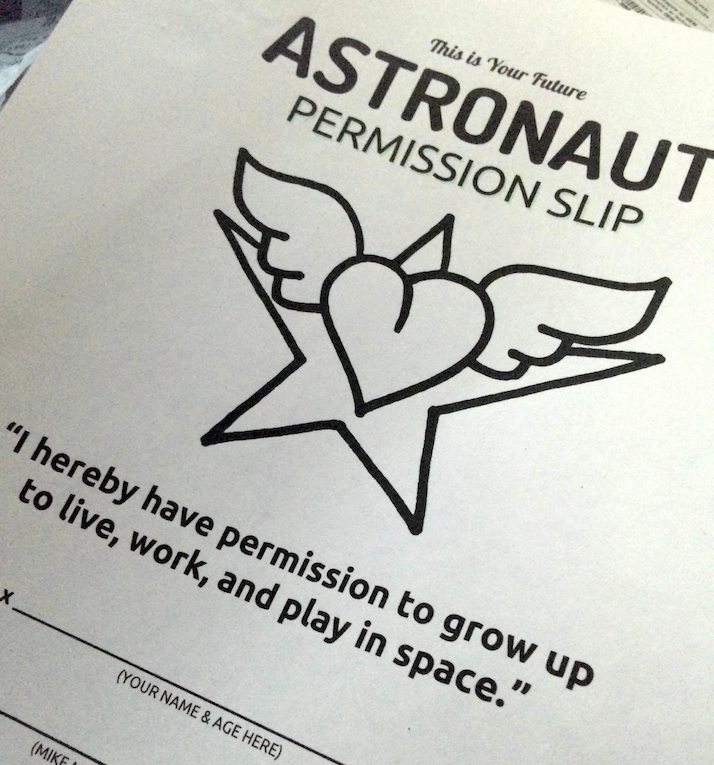 from The Astronaut Instruction Manual
You are going to have to study with dedication
the school subjects you love best,
and to be well-studied even on subjects you love less.
And most importantly,
you are going to have to get your own mind ready for space
because YOU are going to live in outer space.
In other words,
to make you ready for living in space,
we are going to use tools of the mind.
...
The approach I take is direct: The very skills required to survive and thrive off-planet and in space are the same skills required to succeed Earth-side. Ironically, I think the lessons are solidly grounding as it is precisely this sort of foot-hold a young student will need in order to successfully "launch".
Plus, of course, GREAT ART:
Illustrations by
the internet's most famous robot dinosaur, FAKEGRIMLOCK!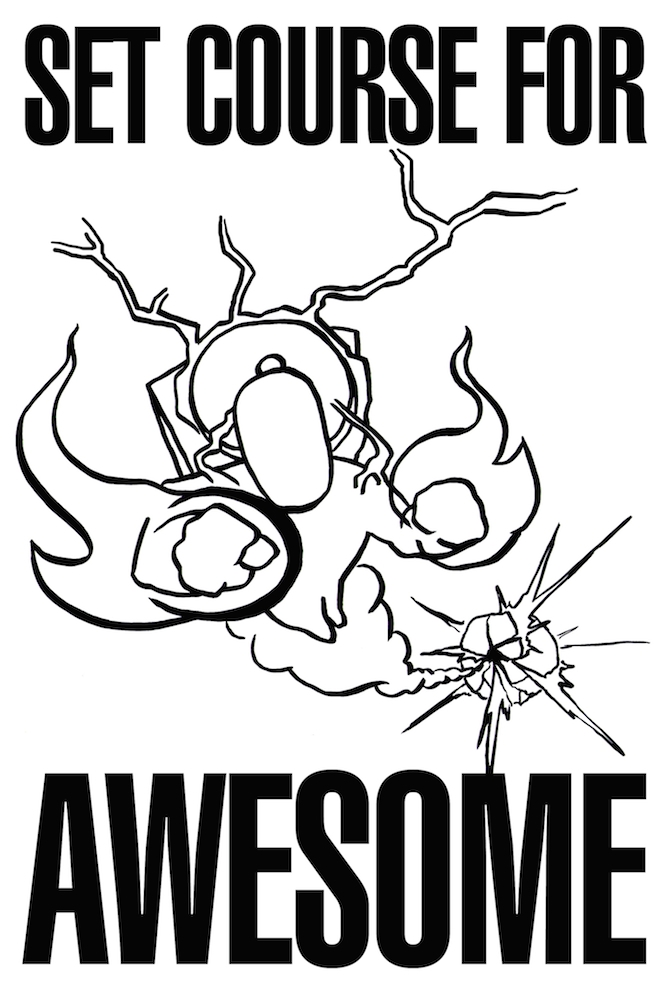 Books to inspire young minds must have engaging artwork. And a book to inspire young students to pursue careers in space especially so. The artwork must be fun, memorable, and it must connect!
To hold the attention of today's 9-12 year old, you have got to make art that speaks to today's 9-12 year olds.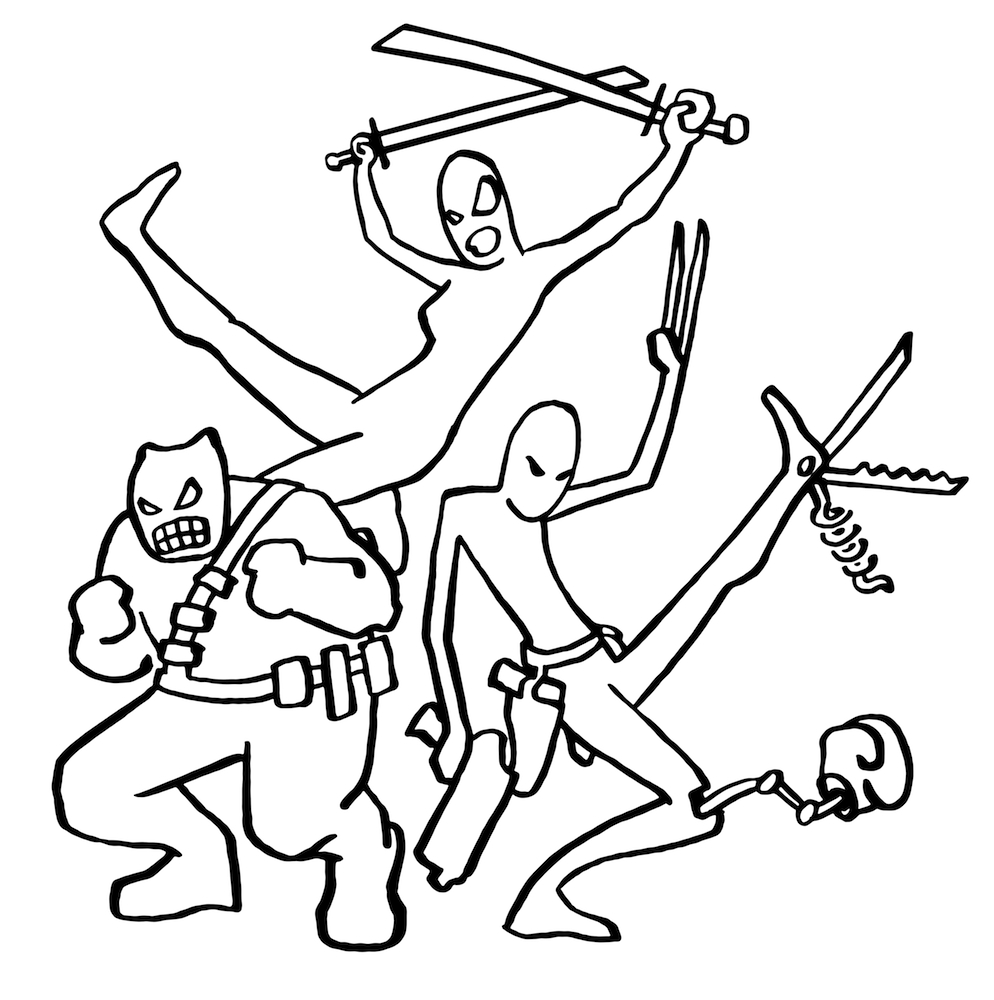 Think sharks, ninjas, radiation, explosions, superpowers, lasers, volcanos, and, of course, giant super-powered, radiated, ninja-fied robot dinosaurs.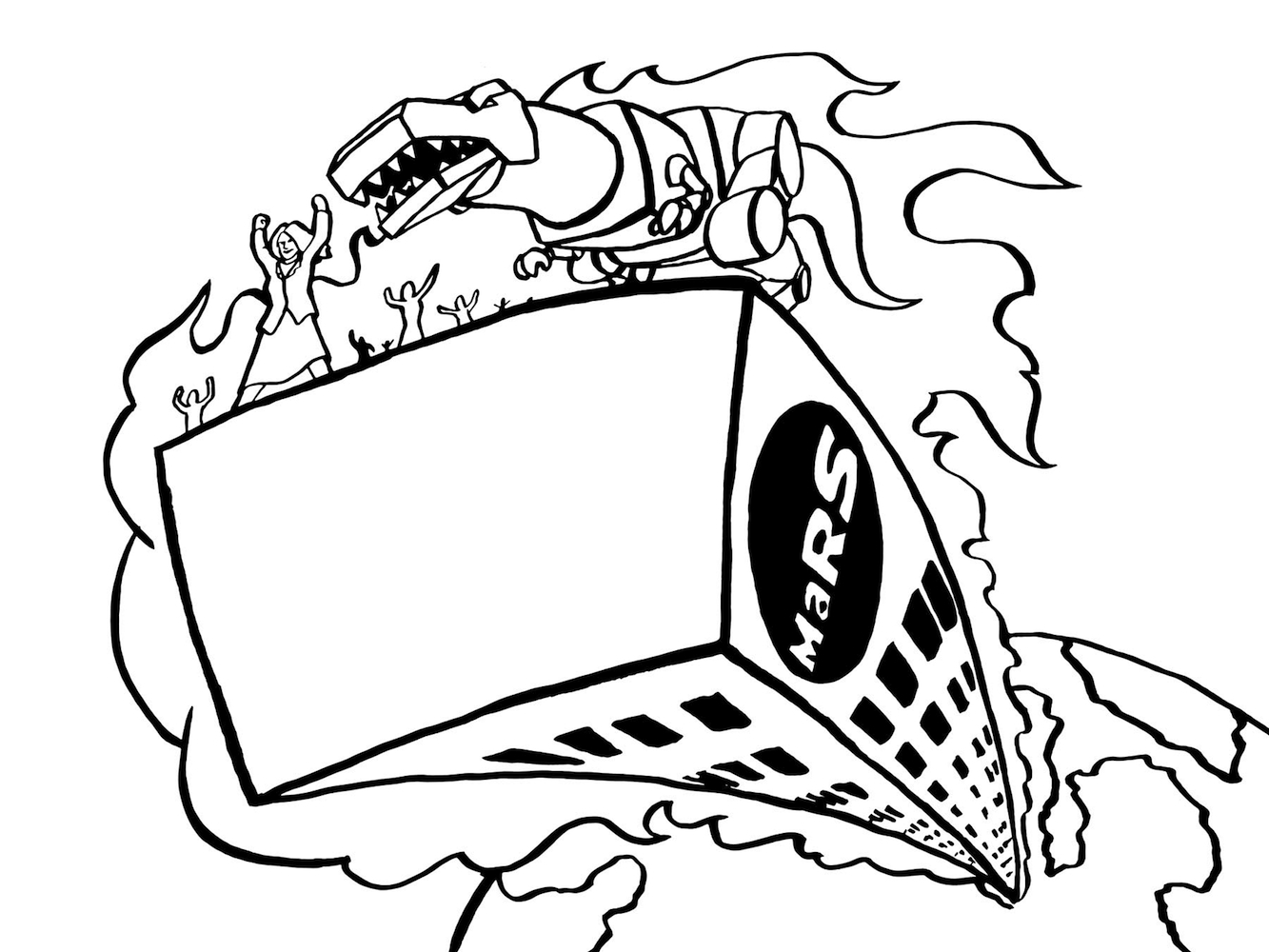 I am happy to report we will be using the fantastically engaging CC-licensed illustrations by the amazingly talented and most very famous artist thinker & giant super-powered robot dinosaur, FAKEGRIMLOCK!
As The Astronaut Instruction Manual is being published with a Creative Commons share-alike license, having FAKEGRIMLOCK's illustrations amplify the book's message increases both the Manual's accessibility and reach.
Blastoff!
Today's students must be met on their own terms. Humankind is readying now for our next big venture to space. And The Astronaut Instruction Manual is the astronaut instruction manual that gets the job done!
Young students today have an opportunity unlike any that has come before. As young students ourselves, most of us grown-ups never had teachers tell us of a space future where we could live, work, an play in space.
It is time for that to change and to let kids know:
tomorrow's jobs are in space and they can be astronauts. Or Humannaires!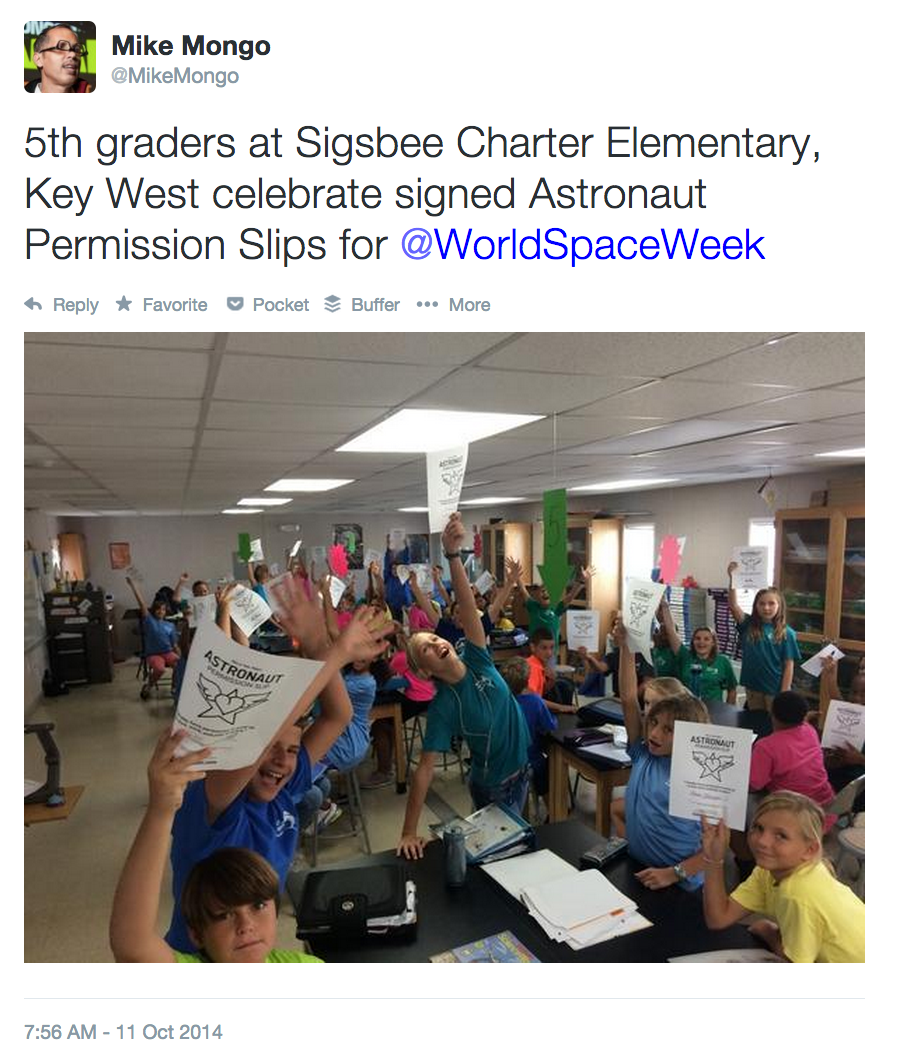 By pointing the way to an inspiring space future, we can affect change in the world one reader at a time. Which is why I am asking you:
Please support The Astronaut Instruction Manual.
Thank you, and keep up the good work,

Mike Mongo
astronaut teacher