Exploring universal spiritual questions through the lens of scientific breakthrough, Terminus follows a research team whose experiments with unexplored energy spectrums inadvertently uncover a window to the beyond. It's a breakthrough that cost the project head his life, drawing his estranged daughter into the mystery of his death. She joins his team at their remote desert facility – the lab in which her father died – to hear his first messages from the other side. As they race to validate and refine the signal, the team is faced with the suddenly literal ghosts of their past, exploring the emotional, ethical, and societal implications of developing such a technology. They also uncover a flaw in the system that causes the contacted spirits to disintegrate, casualties of mankind's search for life after death. When her father's old partner attempts to take control of the project and bring it public, Charlotte must decide whether to destroy the Terminus or allow it to be unleashed on the world.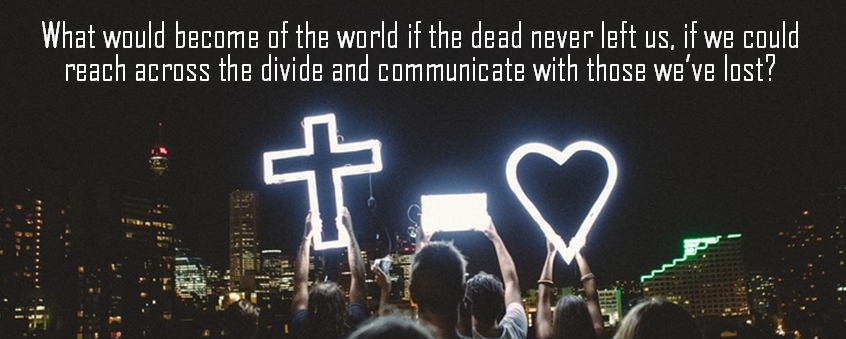 Hi, there! Now that Terminus is in editorial, it's going through some fairly substantial changes. Essentially, the manuscript that I originally wrote was more of a second or third book. In it, the Terminus technology was already up and running, but we're now nailing down the origin story. Same moral dilemmas, same exploration of family drama and the influence of the past. This time, though, we'll see the technology from its inception, we'll meet the people who created it. And the idea of commercializing and otherwise exploiting this means of communicating with the dead? Rather than something that's already happened, that's now central to the conflict.

I'm excited to share the new direction with you. More details and character profiles coming soon!



Character Profile: Charlotte Rai

Character Profile: Dr. Veronica "Ronnie" Sachs
Character Profile: August "Gus" Carter (coming soon)
Character Profile: Elias Romero (coming soon)
Character Profile: Charlie Cross (coming soon)
Character Profile: Arthur Eriksson (coming soon

The Ever-Evolving Terminus Playlist (Spotify)


First off, I'd like to assure you that, despite writing an entire book about death, I'm a generally happy - even occasionally chipper - person. A big fan of laughing into the abyss, as it were. It's a hell of a lot better than the alternative and, for me, that's a big part of what Terminus is about. We all face the same questions of mortality, dissatisfaction with our lives, etc, etc, but all of that feels somehow better when we face it together. I've made a lot of good friends bonding through sarcasm and shared melancholy and I'd like to think that the characters of Terminus do the same.
The obvious inspiration for this story is loss. It's something everyone experiences, something everyone can relate to. For me, it started with losing my father at an impressionable age, of being in the room when the doctors pulled the plug and watching him struggle to raise his hand and reach out for us. It's certainly a mental image that sticks with you. But my dad was also… well, the term "cheeky little shit" comes to mind (in the most loving way). I like to think that I inherited his twisted sense of humor and that there's healthy doses of that in this book, too.
Terminus started as a National Novel Writing Month project three years ago. It hit the 50,000 word mark and just kept going. After a few drafts, sharing it with friends, and being rejected by the one traditional publisher that I tried, I was resigned to let it die… until I discovered Inkshares. The support of this community is what brought this story back to life and I'm so thankful to you for that! As if that wasn't enough, you also helped me reach the pre-order goal to secure publication! I'll be forever grateful to everyone who made this book a reality.
By day, I'm a number cruncher, middle management at a bank. My background is in music, though. That's probably why frequency and signal analysis are at the heart of the technology as I imagine it - but, thanks to the help of my editor, it now has a foundation in quantum mechanics. The action of the story also has something of a familiar feel – much of it is jaded and sarcastic people, pulled in different directions by their experiences and obsessions, finding ways to relate as they talk about weird shit. All my favorite things, really.
Beyond that, I'm a recent transplant to Oregon from Virginia, though I spent the bulk of my adult life in New Orleans. (Yes, the "y'all"s are authentic.) I miss it dearly and it's definitely a state of mind that you never quite lose. I also have a pack of three loveable dogs, who just love pushing their way into my lap whenever I'm trying to write. When not doing that I'm either playing video games, devouring dark, character driven-stories (books, TV, comics, whatever) or playing a little "rage cello" at the end of a long work day. It's not so bad, this life thing.
I hope you all enjoy the story. Hopefully it's more fun than the initial premise might suggest. In the end, I like to think that there's something unknowable connecting us, something optimistic at the heart of our hardships and tragedies. That's where I've most often found it, after all.
For other projects and rambling blog posts, check out jayemilius.com. You can also follow me on Twitter for daily updates and #amwriting shenanigans.