Sep 2, 2022
Hello my wonderful friends and supporters. We are officially down to just one month until Tantalus Depths' launch day, which feels absolutely insane to say. It seriously felt like we'd never get here, but now it's cresting over the horizon and finally feels like a real thing that's actually happening to me. 
There's still a lot that needs done before launch day in order to make this as successful as possible. I've been spending the last few weeks gathering together materials for the display table I plan to use at events, reaching out to reviewers and media sources, and putting together marketing strategies. All of this is way outside my comfort zone and normal skillset, but I'm doing it anyway. It's not enough for me to just have Tantalus Depths exist; I want it to thrive. I want to do everything in my power to put my book in front of as many people as possible. 
It's more than one person can do alone, though, even with my publisher bolstering me. My hands are as full as they can get right now, so I'm going to need more hands. Your hands.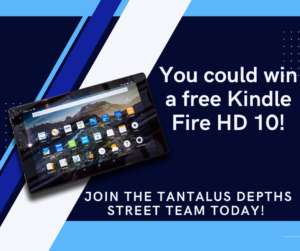 I'm putting together a street team for this final stretch of the marathon, and I could really use your help one more time. If you're not familiar with publishing jargon, a "street team" is a group of an author's closest friends, family, and most dedicated supporters who gather together to amplify the author's voice to a bigger audience. You can do that in many ways: anything from leaving a review on Amazon to asking your local library to order the book can help an author's book launch become more successful. There are no specific obligations: you can participate as much or as little as you like. Every contribution you make is one thing off my shoulders and one step closer to a successful launch. 
There are perks to joining my street team for you as well. Everyone who joins will have exclusive early access to the Tantalus Depths ebook: you can read it right now! I also want to make participation fun for you guys too, so I'm turning it into a bit of a game with a nice prize at the end! Participating actively in the street team will earn you points, which will be worth entries in a raffle. On Saturday, October 1st, I will pick the winner of the raffle and the recipient of the grand prize: a brand new Kindle Fire HD 10 tablet! I have one of these and I love it: I actually use it as my main portable computer now, so I'm really excited to give this new one away to a loyal supporter. 
If you're interested in joining my street team, you can either email me at authorevangraham@gmail.com or, better still, you can join the
dedicated Facebook group for it here
and we can all collaborate together! 
This is an exciting process and I'm really eager to see what we can all do together. Launch day is coming up fast, and it's going to be a day to remember.