Sep 12, 2016
Good morning, Sailors!
I hope you all had a great weekend. I spent mine out and about, getting the word out about Storm Song! I journeyed up north to Muncie, IN to visit Ball State University, where I studied Creative Writing- and where the world of Elysia all began. It was a really fun trip! That same day, I also hit up some local game shops in Indianapolis to advertise my entry to their customers. I'm pleased to announce that on October 2nd, Game Paradise in Fountain Square is allowing me to run a one shot D&D session within the world of Storm Song! You can find out more about the event here
Speaking of D&D… I'm so excited to announce that today marks the launch of our official Storm Song...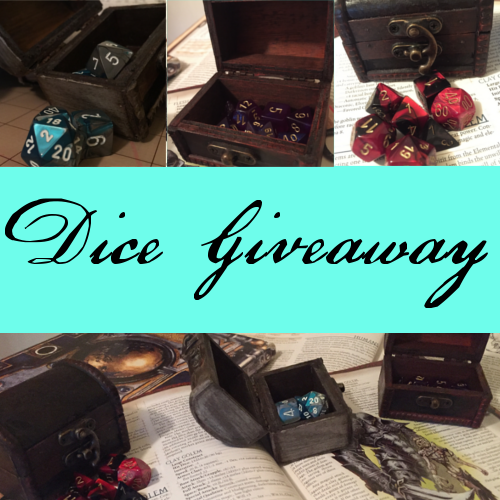 Yes, that's right! Since this whole book started with a D&D campaign, it felt only right to spread the nerd love. On October 1st, I'll be giving away 3 sets of dice, each one themed around a character from Storm Song:

Thoster - teal and grey

Vashile - red and black
Linn - purple and gold
Each dice set will come with the pictured treasure chest to keep them safe, as well as a dice bag made by my extremely talented friend, Heather. These are still in the works, so they aren't pictured yet, but trust me, guys... They're going to blow your mind.

So how does this work, exactly? There are two ways to enter
Any new pre order from Sept 12th - Sept 30th will earn you one entry
Any referral you give where the referred party pre orders in the giveaway time period will earn them an entry as well as one for yourself
Referral entries are UNLIMITED so grab everyone you know and convince them to pre order so you can stack the odds in your favor like a true pirate would.

**In order for me to know that the referred pre order came from you, please email me at asgriner6587+dicegiveaway@gmail.com with your name and the name of your friend who has also ordered. Once I have confirmed the order, I will count your referral entry.**

So get out there and convince your friends and family to buy my book, so I can send you some awesome goodies!

As always, I do want to thank each and every one of you guys for everything you've done to help me with this project. It means more than I can say, though I'll keep trying.

- Allison