Welcome to the landing page for Rise by Luis Almonte. Rise is a young adult contemporary fantasy novel. For fans of Harry Potter, Twilight, Divergent or for anyone who enjoys reading young adult literature. This is a crowd-funded site where both readers and public interest determine which novels are published.
HERE'S HOW IT WORKS
Pre-order your copy of Rise today!
The second edition of Rise will include additional chapters, fan art, and a preview of Reign, the second installment of the Trifecta Series.
If the funding goal is not met all purchases will receive a complete refund.
All pre-orders will be entered into a national giveaway contest.*
The prizes include a Kindle Fire HD, Amazon gift cards, and other promotional giveaways.
Luis has agreed to donate 10% of net profits to The Trevor Project, a national teen suicide prevention and awareness organization.
ABOUT RISE

Rise is the first installment in the Trifecta Series trilogy. Action packed and full of suspense, Rise introduces 15-year-old Alexia Wick, a seemingly typical high school sophomore with a not-so-typical life—she and her family are witches ...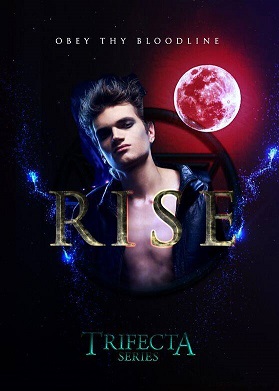 Casting spells and practicing magic after school and on weekends, Alexia must navigate the pressures of high school while she prepares to compete with the most talented young witches from across the country at the Annual Trials. When Alexia meets a new male student named Kaleb, a romance begins and Kaleb's own dark secrets unleash an immense supernatural power struggle with potentially dire consequences for all.

FIRST EDITION REVIEWS AND ACCOLADES

A 5/5 ✭ YABooksCentral featured editorial review
A 4/4 ✭ editorial review from OnlineBookClub.org
Favorable Publishers Weekly Children's review
An Indie Book Connect club pick
FOLLOW US ON SOCIAL MEDIA
Twitter https://twitter.com/Trifecta_Series
Facebook https://www.facebook.com/trifectarise
Instagram https://www.instagram.com/trifecta_book_series
GIVEAWAY RULES*
The contest will only take place if the funding goal for this project is met.

All preorders will receive 1 entry.
Five lucky winners will be randomly selected from all eligible entries.
Prizes include a Kindle Fire HD, Amazon gift cards, and Barnes & Noble gift cards.
Winners must reside in the United States.