Update: For every print copy ordered during this campaign, I will personally donate a copy of the book to a local school, library or reading program. Please help us get this in the hands of kids everywhere! - Chris Michaels
I like to think I'm a writer when my day job doesn't get in the way. My first book, Poop Flies at 35 m.p.h., is a collection of stories describing my journey as a new dad, through having our first child. It not only provided the anecdotes, but in-depth information about each stage of pregnancy, written for other dads as a participation guide. This included everything from building a baby registry and all of the doctor's visits, to holding the baby and activities for the first few months.
Since then, one of my favorite things to do with my children has been to listen to them tell creative stories. I love hearing how their imagination works, how they come up with their own adventures. From pigs who live in gingerbread houses (another book coming soon), to imaginary friends who ride on unicorns and seriously need a bath.
Which brings us to Our Family's Elephant.
One morning, while I was getting ready in the shower, my daughter came into the room, just as I blew my nose. "It sounds like there's an elephant in here, Daddy" she shouted, making all of us giggle. But it got me thinking...
What if there really was an elephant in here? What would he look like? How big was he? Did he live here? Where does he sleep? Did he go everywhere with us like a member of the family? What did we call him? Could anyone see him, or just us?
Of course there was an elephant in here! And his name is Alfred Reginald Gee, or Al R. Gee (pronounced "all-er-gy") for short.
Our Family's Elephant is an illustrated story that looks at the adventures of our family, and the tiny mischievous elephant that goes everywhere with us. It's part story, and part "find the tiny elephant" in the pictures of our expeditions.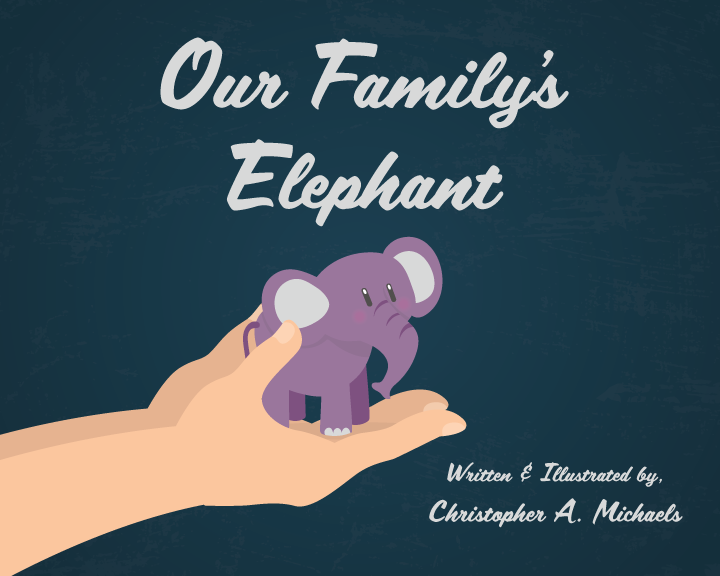 This is a book that I want to inspire other kids. I want them to know it's OK to dream. It's OK to have imaginary friends, and it's OK to share them with others, even if not everyone can see them.
Thanks for supporting this book!