Jul 29, 2017

Dear friends and followers,
It's been a very long time since my last update. My apologies for that. On the book front, we're now in developmental edits ... basically arguing with an editor over just how much of the novel needs to be rewritten from the ground up. A couple of chapters are going to be juggled around, but I should probably not say too much beyond that. We're at a point where Change is an unchanging fact of life.
For most of the past year as well, I've been buried neck-deep in writing something else: "The Hero Unmasked!", a CYOA-style game for Choice Of Games.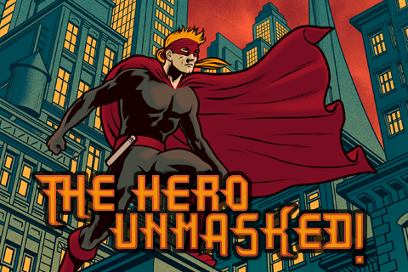 It's a superhero story, as you might have guessed, and very different from "Murder at the Veterans' Club". The game was just released on Steam, Apple, and Android last Thursday, and I've pretty much spent the past couple of days grinning madly as the reviews roll in.
Is there anything else of note? Yes.
Landon Crutcher, author of "Monkey Business", has begun his campaign for "Black Cloud". I remember enjoying "Monkey Business", and I expect "Black Cloud" to be an even better outing. Crutcher's writing this time about something he knows intimately from his work, and that always adds a certain special something. Like James Herriot writing about veterinary practice.
Ryan Smith has decided to publish his novel, "Goodbye, Angel", via Amazon instead. I've purchased it and read it, and I've found it an engrossing and enjoyable read, especially if you love the "hard-boiled" detective genre. I've recommended this before, and I continue to say ... Highly Recommended.
Until next time, being aware that "next time" could be A Long Time Off ... have fun, and keep reading.