Mission 51 - Published!
On June 28, 2017, Mission 51 finished in the top 3 of the Nerdist Sci-Fi Contest out of 173 entries, winning a full publishing contract on Inkshares. After development and production, Mission 51 was published on February 15, 2022.
About this Book
Fifty previous Torkiyan missions were lost to space and time, but new technology gives Mission 51 a better chance to reach the legendary planet Cerulea.
Zeemat is one of four crew members assigned to the mission, and despite thorough preparation, their journey is marred by tragedy, and the arrival does not go as planned. He finds himself alone among a sapient species on Cerulea, individuals who both help and hinder his mission directives to explore, conquer, and colonize this new world.
He befriends a native, Linda Deltare, and learns to communicate. As their relationship grows, they struggle against a powerful system that aims to exploit and destroy them.
To survive, Zeemat and Deltare must help each other fight their common enemies — the military and the highest levels of government. Zeemat will have to resolve his conflicting feelings, confront his personal failings, and ignite his inner power.
Will he honor the mission directives and remain loyal to his people, or will he find his own place in a strange new world?
This is a story that will resonate with those who have endured a difficult relocation. Zeemat's story may be unique, but it parallels the immigrant experience many of us have lived. For better and for worse, he lives to carry out his mission in his own way.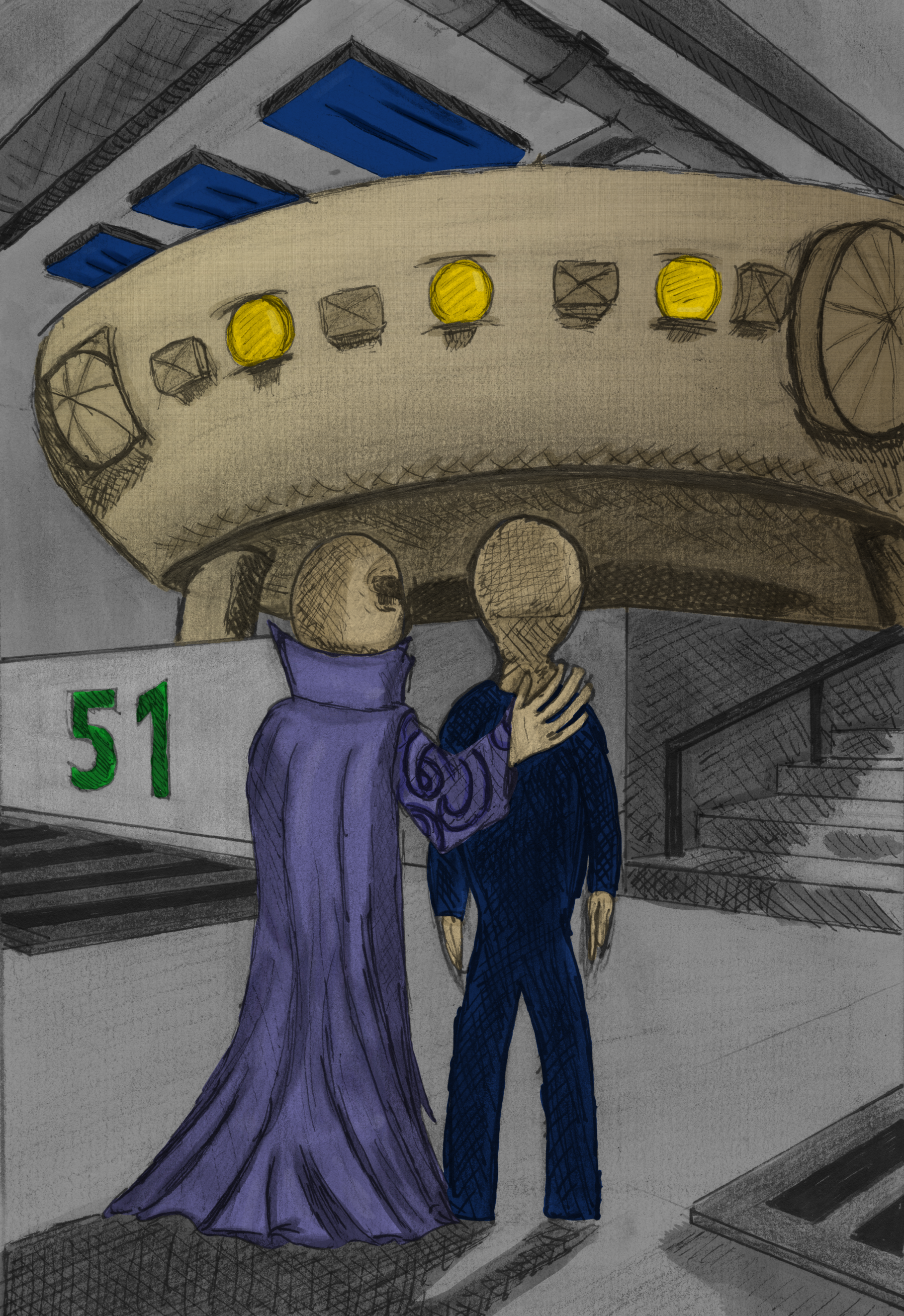 This original drawing by Chris Pyke depicts Supreme Commander Yonek revealing the ship Janusia to his son, Zeemat.
👽

Praise for Mission 51
The following are comments about this book, from the Formal Feedback Notes of The Tracking Board's 2016 Launch Pad Manuscript Competition.

"This is a knockout premise, and those are very rare."
"The fact that Mat's story... is an immigrant story, takes this premise from being a great high concept to being a great high concept with real emotional subtext, and one that has resonance with our modern world today."
"The pages here consistently communicate the story clearly, with great momentum, and a very palpable sense of empathy for ALL the characters... This is a great read, and a very capable execution of a highly evocative premise. This project has tremendous potential."
"The quality of the writing here, not just on the conceptual level, but also in terms of the story in these pages and the writing of that story, is uniformly strong. The dialogue's good too, voice specific and smart in its use of subtext."
"This project feels like it has strong potential for either a TV or feature adaptation, and stands on its own as a great read as a manuscript."
Additional recommendations can be found in the 'REVIEWS' section above. Feel free to add your own review after reading the sample material in the 'READ' section.
Ratings and reviews are also available on Amazon and Goodreads.
👽
Connect with the Author
👽
Check out the Mission 51 Pinterest board!
👽
Thank you very much for your interest, and welcome to the awesome family of Mission 51!
👽