Nov 14, 2017
A couple exciting updates from Kill Creek...
For those of you who pre-ordered the book many, many months ago, the paperback copies (finally) went out today!  You should have received an email about this today, and the books should be to you in 2 - 4 business days.  I can't wait for you to check it out.  I couldn't be happier with the finished product.  It's my love letter to my all-time favorite genre and the many horror writers who inspired me.  I wrote the first draft of Kill Creek over a decade ago, and the final version is the result of a VERY busy summer of rewriting...and rewriting...and rewriting.  The response so far has been overwhelmingly positive.  Barnes and Noble even called Kill Creek the horror debut of 2017 which is, you know, PRETTY DAMN COOL.  Here's a little taste of what they had to say: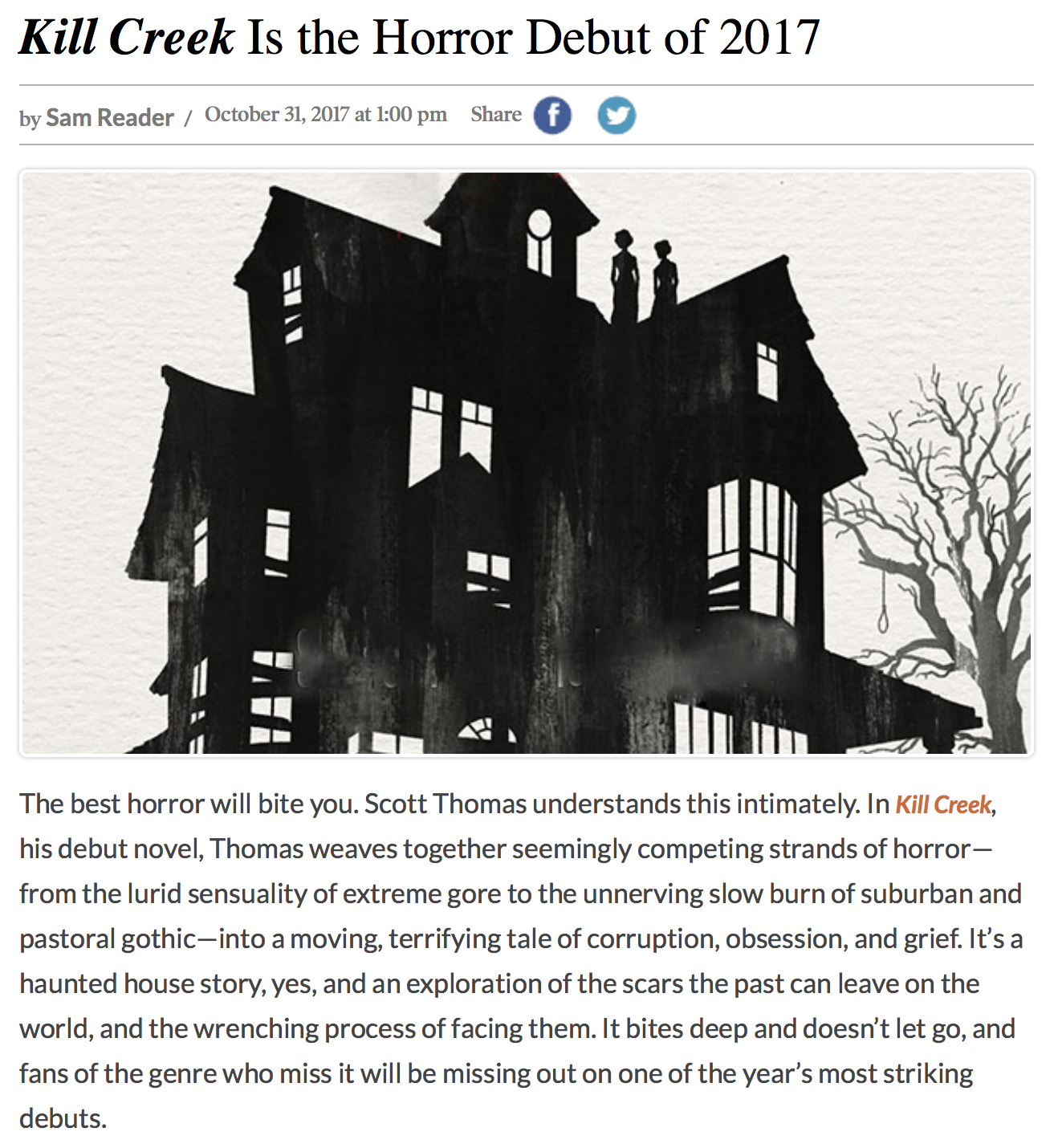 There is one little bit of bad news, and I hope you'll forgive me: I wasn't able to make it up to Oakland to the Inkshares offices to sign your books before they went out.  Because the books took longer to print than expected, and because I felt you had waited long enough to get the books you ordered, I made the decision to have them send them to you without my signature.  I wouldn't have been able to make it to Inkshares before Thanksgiving, and I wanted to get the books to you ASAP.  But please know how much I appreciate your support.  Your pre-orders made it possible for us to start the process of publishing this book.  Without you, the manuscript would still be sitting on my hard drive.
Also, for those of you with (kid-free) commutes or road trips planned, Kill Creek is now available on Audible!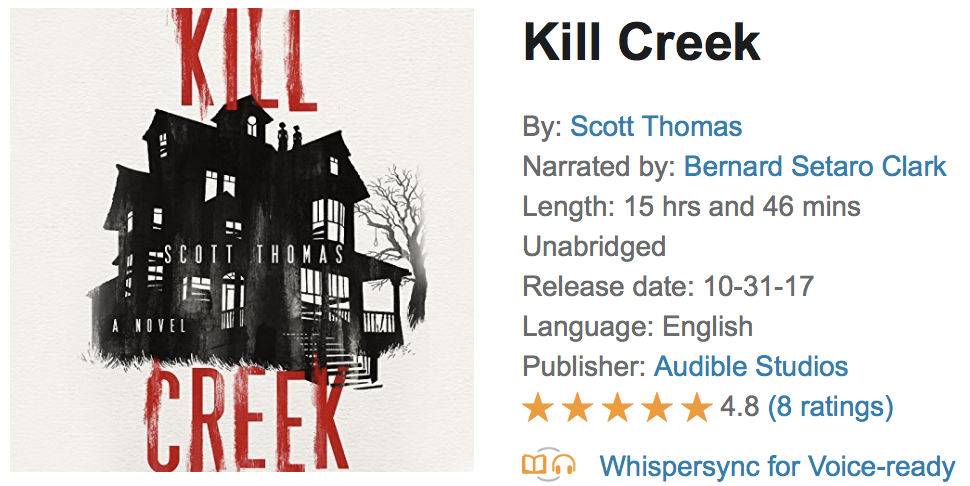 They did an amazing job.  It's a fantastic listen.
I've already started talking to Inkshares about my next book.  It's a much different story--a fast, nasty little mofo--and I can't wait to dive in.  Just know that I have something appropriately disturbing in the works.
I hope you enjoy reading (or listening) to Kill Creek.  When you have a few minutes, please post a review on Amazon, Goodreads and/or Audible.  Your reviews help bring online attention to the book.  Also feel free to share comments or photos of the book on any and all forms of social media.  We're doing our best to get the word out, but we can always use extra help!
Thank you again for your support. 
Now...open the door to the house on Kill Creek, but remember: once you cross its threshold, there is no going back...
Scott Thomas