Nov 22, 2015
Delicious Thanksgiving Pumpkin Pie recipe from our chef Laurie Wolfe
Hello Backers!
Rumor has it there's a little holiday coming up called Thanksgiving... so I got in touch with one of our celebrity chefs, Laurie Wolfe, and asked if she could whip something up for you! I was worried she'd be too busy sunbathing and reflecting on the success of Herb: Mastering the Art of Cooking with Cannabis, but no, she was itching to get back into the kitchen for you guys!
Together with her partner Bruce (who created the stunning images for the book), she came up with this delicious pumpkin pie recipe: Laurie Wolfe's "Special" Pumpkin Pie
If this pie is meant to be shared with non cannabis users, why not infuse the sour cream sauce? That way only the ones who care to indulge can do so, with a drizzle to a dollop of this creamy canna-bliss. 
Happy Thanksgiving, and let's get some peace on earth going too.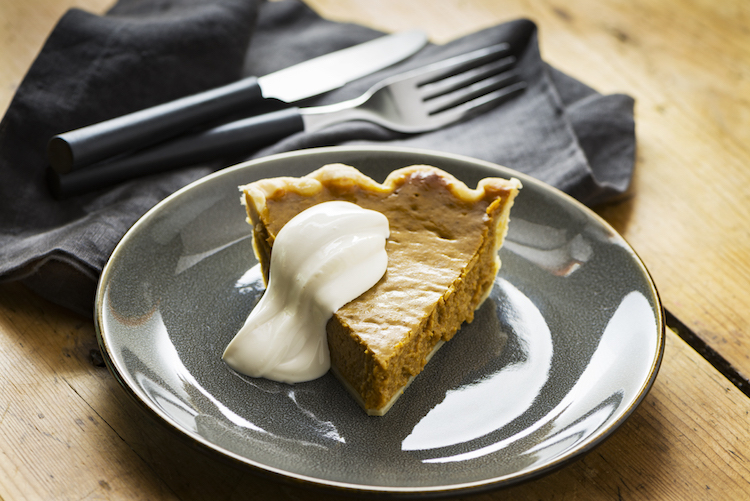 "Special" Pumpkin Pie
Serves 8
Ingredients
2 eggs
1 cup brown sugar
1 ½ cups pumpkin puree
1 cup cream
3 tablespoons canna-butter, melted and cooled 
1 teaspoon cinnamon
½ teaspoon nutmeg 
½ teaspoon ground ginger 
1 pie crust* 

Directions
Heat oven to 350 
In a mixing bowl beat the eggs and the sugar together until light and fluffy.
Add the pumpkin, cream, canna-butter, cinnamon, nutmeg and ginger. Mix well.
Pour into a pie crust* and bake till done. The pie will rise during baking and then settle when cooling.
Serve with a dollop of brown sugar sour cream sauce.**
Pie Crust* 
Ingredients
2 cups all-purpose flour
1 teaspoon salt
2 sticks butter, unsalted
1/3 to ½ cup water 

 Directions
In a large bowl, combine flour and salt. Cut in butter until mixture resembles coarse crumbs. Stir in water until mixture forms a ball. Divide dough in half, and shape into balls. Wrap in plastic, and refrigerate for 4 hours or overnight.
Roll out dough on a floured counter. Don't over work it. Use as directed in pie recipe. You can freeze the other half for up to 3 months. 
Sour cream sauce** 
If you want to infuse the sauce, add the 3 tablespoons of melted and cooled canna-butter to the sour cream. Increase all the spices by ½ teaspoon. 
Ingredients
1 cup sour cream
3 tablespoons brown sugar or maple syrup
½ teaspoon cinnamon
½ teaspoon cloves
¼ teaspoon ginger 
Method
Combine all ingredients in a bowl. Chill for an hour to meld flavors.

We hope you're enjoying the book and would love to hear about your experiences preparing some of Laurie and Melissa's recipes - drop me a line at lucas@thestonerscookbook.com with your stories (and any photos of your creations!). I might pass some of them on to our chefs ;)

If you haven't received your book(s) yet: Drop an email to hello@inkshares.com with your order details and they'll chase up your shipment.
Don't forget that additional copies of the book can be ordered from http://inkshares.com/projects/herb and http://www.amazon.com/Herb-Mastering-Art-Cooking-Cannabis/dp/1941758258/
Enjoy Thanksgiving, and don't forget to follow us online!
Facebook: https://www.facebook.com/TheStonersCookbook (if you like a laugh)
Twitter: http://www.twitter.com/HERBworthy/ (@HERBworthy)
Pinterest: https://www.pinterest.com/stonerscookbook/
Instagram: https://instagram.com/herbkitchen/
Thanks guys!

Lucas Young