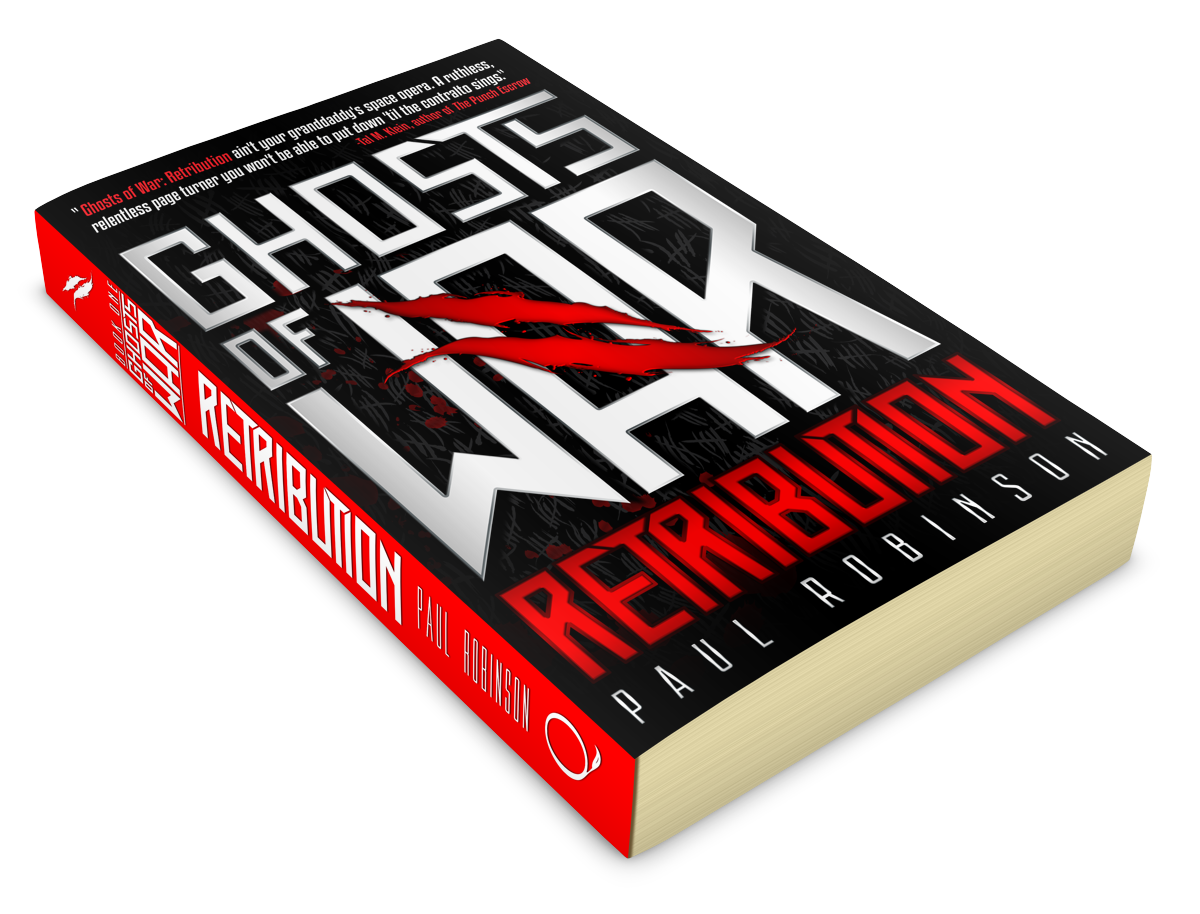 This is a tale of vengeance.
Six months after the death of his mentor, Cole Traske is returning to work as the new leader of his former interplanetary shadow-ops squad, Penumbra. As they head towards their first target, Cole must balance the responsibility of leadership, the squabbling of his pilot and demolitions man, and the inexperience of their young new sniper.
With a heavily scarred body and a history shrouded in secrecy, Cole has tried his best to steer clear of the curious, believing that his past should remain right where it is — In the past.
Unfortunately for Cole, his hopes for an uneventful return to work are shattered by a chance encounter with spectre from his past, Tobias Navarr. Tobias's return, and its tragic consequences, propel Cole headlong into a pursuit for revenge that will take him beyond the edge of the galaxy and perhaps the edge of reason itself.
It's time to stop running.
Retribution awaits.
#TheGhostsAreComing

"Imagine that bastard you hate. Got it? Now imagine yourself gut punching them then throwing them down the stairs, and stealing their last donut. Robinson's debut novel takes arch-rivalvary up a notch while giving that oh-so-satisfying desire to chew bubblegum and kick ass." - Rick Heinz, Author of The Seventh Age: Dawn
"Ghosts of War: Retribution is a wild ride from start to finish. Action, revenge, and a complex story that will keep surprising you right till the end - this is Sci-Fi done right." - Craig Munro, Author of The Bones of the Past
"Sci-Fi action-adventure at its very, very best. Paul Robinson gives us complex characters facing complex conflict in a futuristic world that, although dystopian, always carries the ring of truth. There's revenge, retribution, heroism and, sprinkled throughout, satisfying bits of wry humor. A winning combination, and a debut author worth watching." - Jason Pomerance, Author of Women Like Us
"Ghosts of War:Retribution is an adrenaline-fueled adventure perfect for fans of fast-paced action sci-fi." - Robert Batten, Author of Blood Capital
"Paul Robinson thrills his readers in the style of James Rollins and John Grisham, and then brings them to another world in the style of Robert Heinlein. You should pick up Ghosts of War: Retribution, though be warned: it's hard to put down. ★★★★★" - Jonathan Maas, Author of Flare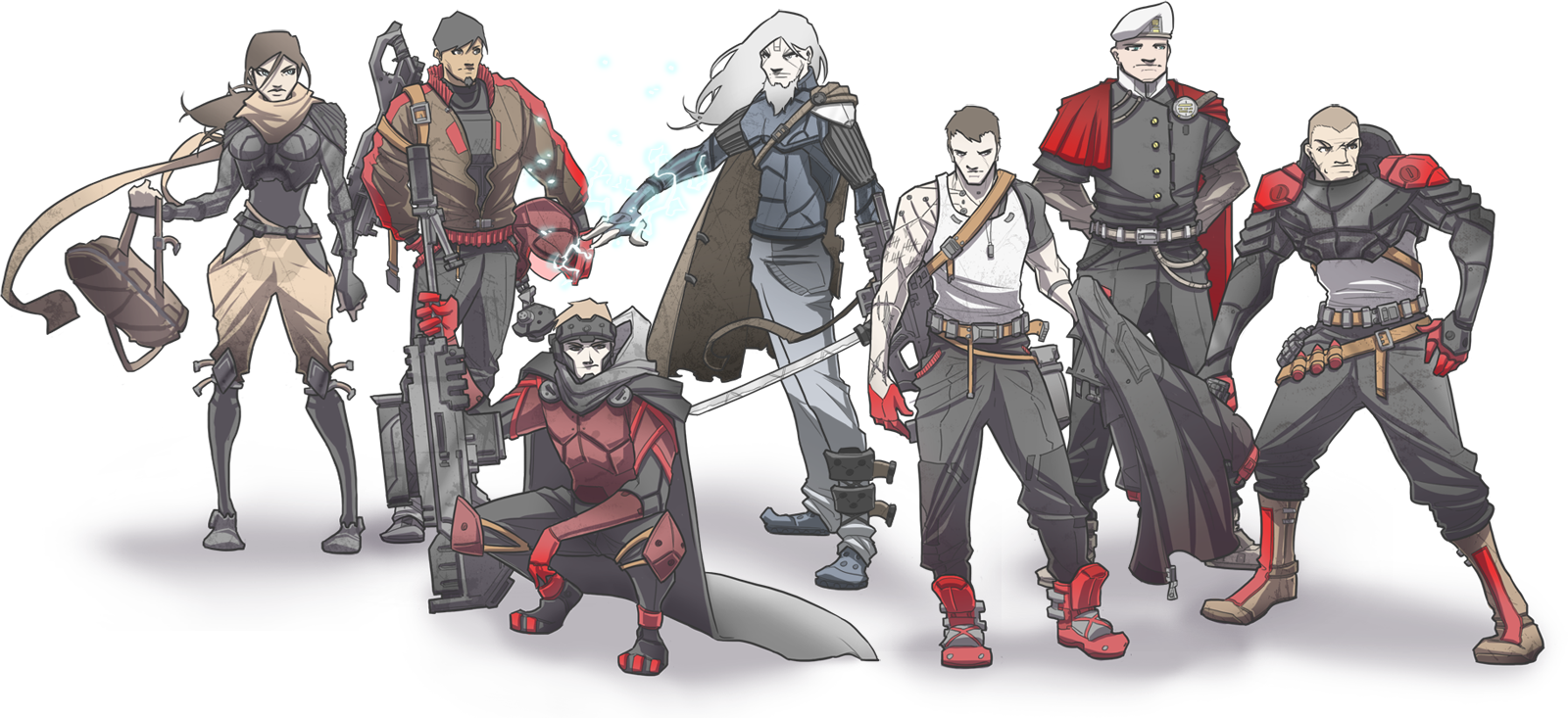 (left to right: Kira, Sol, Gregor, Tobias, Cole, Oren and Ram)
Cole Traske - Cole is a veteran of the Unification War, but he didn't fight for the Federation, he was on the other side. His friends know very little about his time before he joined Penumbra 10 years ago and Cole has been working hard to build a new life for himself and his family and to leave the past far behind. However, the past always has a way of catching up.
Tobias Navarr - A Conduit thought dead for 15 years, Tobias resurfaces unexpectedly and sets in motion the events of this story in heartbreaking fashion. Since he'd last been seen his mental state has deteriorated and made him all the more unpredictable. He returns intent on destroying Cole's life, but the big question is why?
Ramses 'Ram' Barden - Hard nosed and hard headed Ram is Penumbra's demolitions man and along with Sol is a 25-year founding member of the squad. He is a steadfast friend and a true warrior but he has a tendency to get…distracted, at times.
Solomon 'Sol' Dane - Sol is the pilot and communications expert of Penumbra, and his ship is the Havok. The closest thing he has to a child, the Havok has been his pride and joy for 20 years. He'll jump at any chance to bicker with Ram and is often the voice of reason in tense moments.
Gregor Mishkol - Fresh from the Academy, Gregor finds himself thrown into the deep end with Cole and Penumbra. Gregor graduated as the highest ranked sniper in the history of the Academy, and his eager-to-please attitude wears a bit thin on his squad mates.
Oren Rhey'll - A long time friend of Cole's, Oren went through training alongside him in the first batch of peacetime recruits 14 years ago. Unlike Cole, Oren rose through the officer ranks and for the last two years has been in command of the entire 42nd Unification Division. As it's leader, he's made it his life's mission to drive corruption from its ranks and restore it to its former glory. Oren provides essential equipment and assistance to Cole on his mission to get Tobias.
Kira - A chance encounter brings this mysterious young girl into Cole's life and causes him to reevaluate his mission. Like Cole, she has a secret of her own and past she'd rather forget.


Ghosts of War: Retribution is currently winging it's way to the copy editors where it will receive a thorough going over as it moves ever closer to publication later this year on July 24th*.
(Date is still subject to change.)


My name is Paul Robinson, I'm 30, I'm from Australia and Ghosts of War is my first novel. I'm not afraid to admit that I'm new at this, because saying anything else would be a lie. That said, I do feel like I'm perfectly positioned to create this story. I've spent the last 20 odd years doing nothing but absorbing story, be it TV, movies, games or books, I've stuffed my life with enough content that I feel that I have a good grasp on what works and what doesn't in telling a story that's fun to experience.
And that's what I want Ghosts to be, an experience. I'm not looking to change the world, or explore a profound philosophical message. I just want this to be a fun, exciting, easy to read story for people to enjoy. And of course when they turn that last page I'd love for them to think:
"Well, now I need to know what happens next."
So if this sounds like the kind of thing you'd like to absorb into your grey matter, I hope you'll consider supporting Ghosts and preorder a copy.
With your help, we can get these stories out of my brain and into the world, where I truly think they'll find a home.