Jan 25, 2018
Hey. Hi there. 
I have news. A couple of bits actually. I shall save the best for last though.
New book title
Ghosts of War is now.....Ghosts of War: Retribution. The change was made by me to help the title stand out a little more, and it gels better with what the story is actually about (and with the titles of the series going forward). I'm quite pleased with the change. 
With that change though, means something else...
A new cover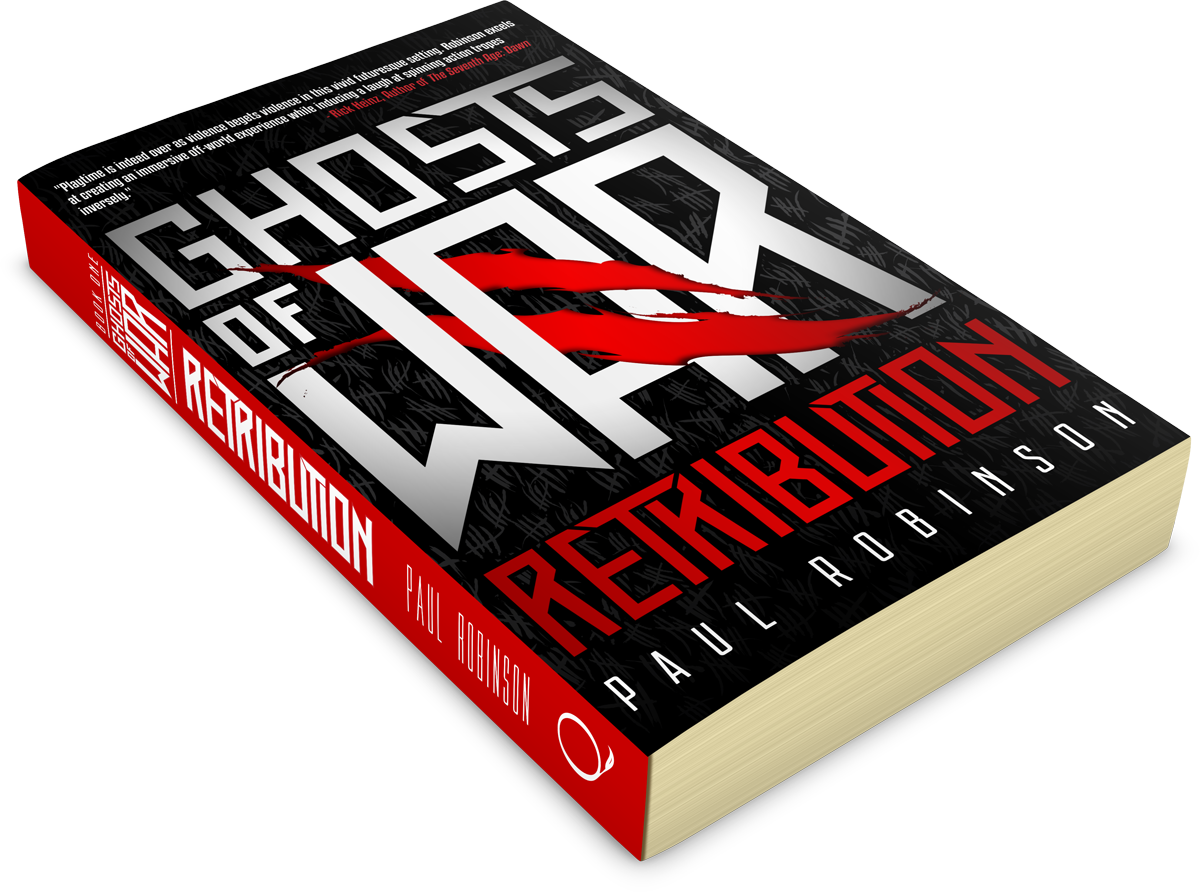 Production Status
Very good news on this front. This last Monday, Ghosts of War: Retribution winged it's way across the interwebs into the hands of it's copy editor. That means it is getting a thorough going over as it moves ever closer to release later in the year. Typically the time frame is 6 months from kickoff to publication, so it should land somewhere around the middle of the year. 
I should be hearing back from Inkshares soon with some more solid dates related to the production schedule and release, and I'll keep you guys updated where I can.
Praise for the book
I've been getting the first lots of feedback on Ghosts of War: Retribution in the last few weeks, here's a few blurbs that'll be showing up in various promo materials going forward.
"Imagine that bastard you hate. Got it? Now imagine yourself gut punching them then throwing them down the stairs, and stealing their last donut. Robinson's debut novel takes arch-rivalvary up a notch while giving that oh-so-satisfying desire to chew bubblegum and kick ass." - Rick Heinz, Author of The Seventh Age: Dawn 
 "Sci-Fi action-adventure at its very, very best. Paul Robinson gives us complex characters facing complex conflict in a futuristic world that, although dystopian, always carries the ring of truth. There's revenge, retribution, heroism and, sprinkled throughout, satisfying bits of wry humor. A winning combination, and a debut author worth watching." - Jason Pomerance, Author of Women Like Us 
 "Ghosts of War: Retribution is an adrenaline-fueled adventure perfect for fans of fast-paced action sci-fi." - Robert Batten, Author of Blood Capital 
 "Paul Robinson thrills his readers in the style of James Rollins and John Grisham, and then brings them to another world in the style of Robert Heinlein. You should pick up Ghosts of War: Retribution, though be warned: it's hard to put down. ★★★★★" - Jonathan Maas, Author of Flare
 What now?

As production finally ramps up on Ghosts of War: Retribution, I'll be working hard with Inkshares to get it into your hands and I'll also be continuing to work on the sequels which are now called Ghosts of War: Reprisal and Ghosts of War: Reckoning. 
As always, stay tuned for updates.