Howdy! You can find the first three chapters of Bane of All Things under the READ tab.
To receive my newsletter updates, please sign up at my author website LeoValiquette.com.

And ... you can also take a sneak peek at the sequel here on Inkshares, The Crucible Tree.
What others are saying about Bane of All Things
"A winner! I've read hundreds of fantasy tales, old and new, but the twists and turns in these pages surprised me more than once. And hooked me deeper, every time. In a lot of books, we see into a few foreground characters, and the rest remain spear-carriers. Not in this one. The reader grapples with mysteries along with them. And it all feels so real. I can't wait for the next one." —Ed Greenwood, author, creator of The Forgotten Realms®
"Visceral and vivid, Bane of All Things is a gorgeously imagined ride. A terrific read." —Kate Heartfield, author of the Alice Payne series and The Embroidered Book
"A dark and engrossing epic fantasy that starts off small but just keeps building. I'm really looking forward to what comes next!" —James Alan Gardner, author of They Promised Me the Gun Wasn't Loaded
"A fast-paced and enjoyable fantasy debut! Can't wait to see where Valiquette will take us next!" — Marie Bilodeau, author of Heirs of a Broken Land
Cover teaser
In the Four Kingdoms, the Holy Clerisy preaches that the gods are dead, and prayer is the path to Hell. Anyone who defies doctrine is punished for heresy. But blind faith can damn a soul as surely as betrayal.

Ryn Ruscroft, once sworn to serve as the Clerisy's loyal soldier, finds himself torn between conscience and duty one bitter winter's night. Those slain include his best friend, felled by his own hand.
Josalind Aumbrae has been tormented all her life by the Voices and their visions—an affliction that could have her facing a witch's pyre. If only she could understand what they want.
Banished to Dragon's Claw Abbey at the edge of the world, Ryn and Josalind discover a place built on more than penance and forgetting. What they find at the Claw will turn them into fugitives hunted by hellspawn, heretics, and Ryn's former commander.
But more sinister forces have awoken—ancient things eager to settle old scores and find pawns among the outcast. When they cry for vengeance, the Living Sword must have a hand to wield it. A mortal it can reshape into the Earth Breaker, the Soul Taker, the Bane of All Things.
The World
It's a high-res image, so you can zoom in with your browser: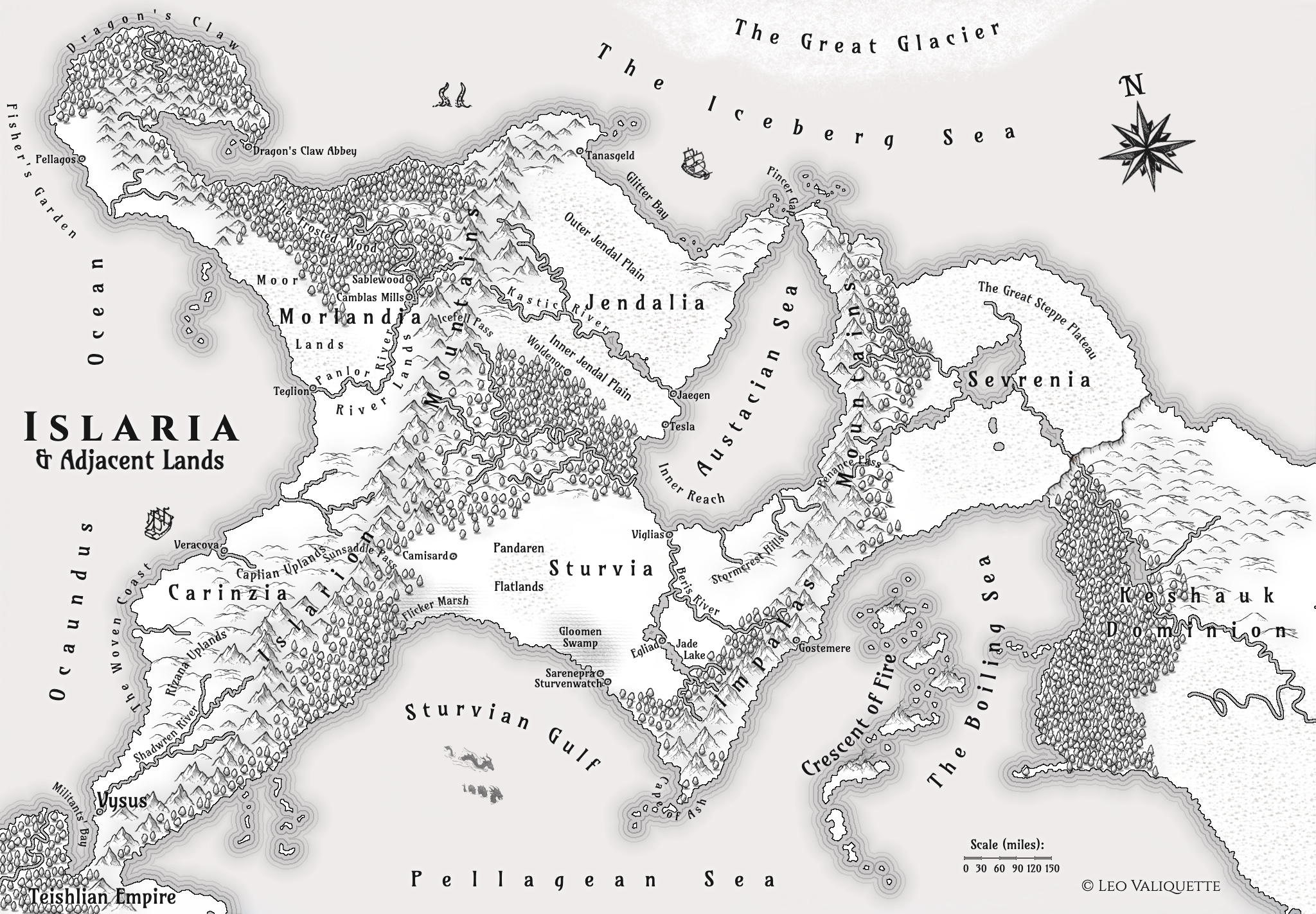 About me

I grew up in rural Ontario, Canada, but had become a regular tourist of Tatooine, Middle Earth, and that barn in Charlotte's Web by the age of eight. I first trained to work in museums, before taking up the pen as a journalist and newspaper editor, and then as a corporate business writer. This love of the fantastical and the historical, as well as finding the root of a story, fuel the need to create worlds of my own.
Today, the tireless support of my wife, Natalie, keeps me chasing the dream of becoming a career author, while my autistic son William everyday teaches me the virtues of kindness and empathy.
A cancer survivor, I have also been contesting with metastasized melanoma since 2019.